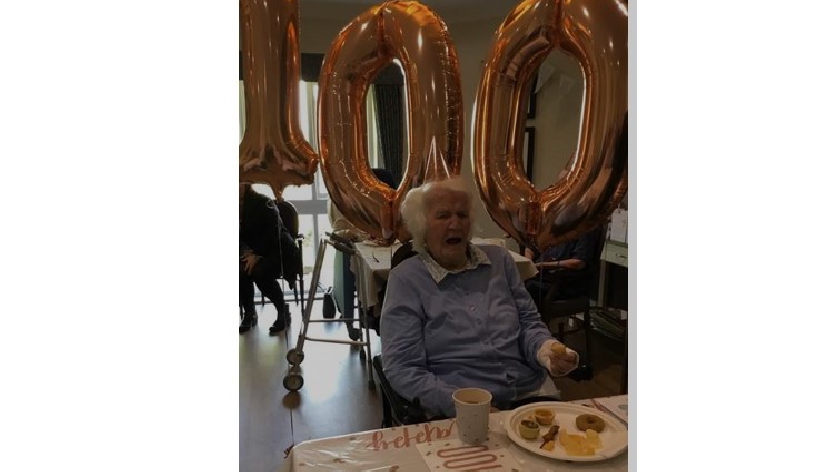 Celebrations were in full swing at Ashby House in Eaglestone this weekend, as one of its residents celebrated her 100th birthday.
On Saturday (23/5), Mary Peak was joined by staff, and other residents as she received a telegram from the Queen in recognition of her landmark birthday. A birthday party was held at the home and guests enjoyed a special birthday cake made by the home's chef Dorothy Woode.
Mary Peak was born in Scotland, Greenock, was married and has raised 5 children of her own, before coming to Ashby House, where she is enjoying a new chapter of her life.
The Birthday Girl, said: "that she cannot believe she is now 100, and that the secret to her long life is not ever drinking alcohol or smoking".
Mary's relatives had Skype calls with her throughout the day, they got to see Mary opening her birthday cards and blowing out the candles on her birthday cake and everyone singing happy birthday to her.
Kerry Angeloni, General Manager of Barchester Ashby House, added: "We're delighted to be celebrating a truly remarkable woman as she reaches this amazing milestone. Mary Peak is such a popular resident who always has an interesting tale to tell, and we look forward to hearing many more as she breaks into her next century."
Ashby House care home is run by Barchester Healthcare, one of the UK's largest care providers, which is committed to delivering personalised care across its care Ashby House for 64 residents from respite care to long term stays.
Happy belated birthday to Mary from the MKFM team!