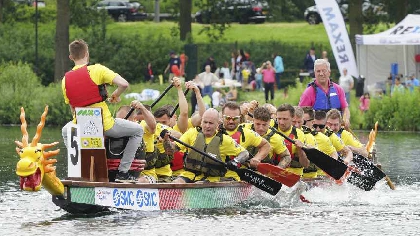 With over two months to go until this year's Dragon Boat Festival takes place at Willen Lake on 25th June, local companies have been quick to snap up the sponsorship opportunities.
Organisers, Gable Events, report that the maximum 10 Gold and Silver sponsorship packages have sold out in record time! This is fantastic news for Festival charity, Age UK Milton Keynes as they will benefit from the enhanced entry donations as well as the crews' fundraising efforts.
It's good news too for any local company wishing to get involved this year as there's still plenty of time to get a team together to 'race the dragon' for a great cause whilst helping the city with its 50th birthday celebrations.
The ten Gold and Silver entrants who will enjoy seeing their logo on the sides of a dragon boat amongst other profile-raising benefits are;
Action Express

BSH Home Appliances

Calverton Finance

FibreFab, Blum UK

SMC Pneumatics

Topdrill

De Vere Horwood Estate

AC Flooring Ltd

PJ Care
They will be joined by a complete mix of new and returning entrants who have already booked their places including 1Life, Landmark Wholesale Lohmann Technologies, Kids Play, Rockwell Collins and Age UK Milton Keynes.
One of the many new teams on the start line this year will be the Silver crew representing De Vere Horwood Estate. The country house hotel and conference venue employs 160 staff and General Manager, Joanne White, is looking forward to taking to the water for the first time. She says, "We feel that fundraising through a fun, challenging and competitive event like the Dragon Boat Festival is an excellent way to team build and spend quality time with our colleagues whilst getting to know them a little better. We have set ourselves a team target of £1,500 for Age UK Milton Keynes. We have a strong team of 15 colleagues, across all aspects of our business and we are setting up some team 'training' sessions to build our rowing muscles. We hope to win or at least finish in the top 5!"
Age UK Milton Keynes
Age UK Milton Keynes is looking forward to supporting and promoting the fundraising activities of the competing teams that raise vital funds for their services. This is a critical time for older people in the community and Age UK Milton Keynes needs to be able to offer support to those who are the most isolated and lonely, many of whom are in their eighties and nineties or even older. There are ever-increasing pressures on these resources and the demand will continue to grow as we all move towards later life.
The top fundraisers for Age UK Milton Keynes will win the Charity trophy plus a voucher worth up to £350 towards a celebratory meal at Zen Garden Oriental Buffet Restaurant in Central Milton Keynes.
Taking Part
To take part in the dragon boat racing on 25th June no previous experience is required, just plenty of team spirit and enthusiasm! The dragon boats, qualified helms and all racing equipment are provided and each crew is guaranteed a minimum of three races. There will also be a variety of bankside entertainment to enjoy such as funfair rides, children's activities, food stalls and even a flypast from a Battle of Britain Dakota! The Festival is supported by Business MK and MKFM and is part of the MK50 celebrations.
For further information and an entry form visit: www.dragonboatfestivals.co.uk/miltonkeynes or call Gable Events on 01780 470 718. For information about Age UK Milton Keynes visit www.ageukmiltonkeynes.org.uk or call 01908 550700