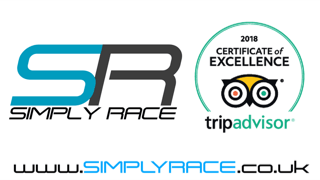 Simply Race has been honoured with Trip Advisors Certificate of Excellence for a third year running.
The virtual high-tech racing experience, based in Stacey Bushes, Milton Keynes has 17 linked simulators. Two of the simulators feature VR headsets and 15 with triple 40" screens to give you the most immersive racing. Feel and hear the V8 engine scream on your next visit.
Michael Yau, Managing Director, says, "It's a great honour to have achieved this three years in a row".
They will be celebrating this achievement by giving away an event for a team of 4 to experience the centre in the last week of November, who is the fastest racer in your office? To book or find out more information about Simply Race, visit www.simplyrace.co.uk
Simply Race is a unique leisure venue based in Stacey Bushes, Milton Keynes. The venue features a huge variety of cars and tracks that you can race on with friends, family and colleagues. The site also hosts a licensed bar for its guests.
Any enquiries for more information can be made by contacting Mike Yau on 01908 713483 or emailing info@simplyrace.co.uk