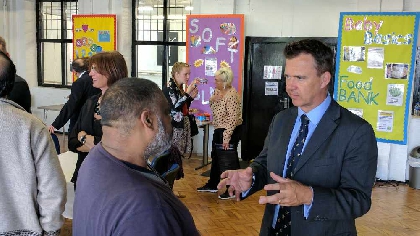 Milton Keynes North MP Mark Lancaster has launched a new lunch club based at the Kings Community Centre in Wolverton.
The club, supported by MK Food Bank, Baby Basics MK, Tesco Wolverton and Fare Share, aims to be a drop in for all the community.
Commenting at the opening launch, Pastor Andy Forbes of the Kings Community Church said "It's fantastic that Mark could come and support us again with this community initiative. Our Lunch Drop-in is simply a place where anyone in need of food, friendship, support or just a chat and a cuppa can drop in."
Mark Lancaster, Conservative MP for Milton Keynes North, added "I was delighted to visit the community centre in Wolverton for the opening of their Lunch Drop-in service. This is a fantastic initiative and yet another example of what a welcoming and inclusive community Wolverton is."
The session is free, food and drink is included with sessions held every Thursday from 11:30am to 1:30pm at The King's Community Centre in Wolverton.