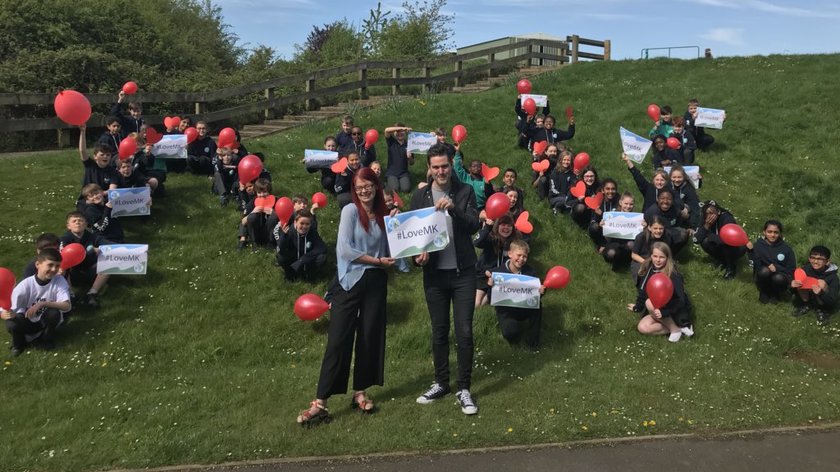 Image Credit: Destination Milton Keynes
Destination Milton Keynes (DMK) is holding the 7th annual #LoveMK Day on Thursday 2nd May 2019.
The aim of the day is not only to promote Milton Keynes as a leisure and business destination but also to harness the pride that many people have in their city, and this year they really want to spread the love, by encouraging people across MK to do 'Random Acts of Kindness' on the day.
This doesn't have to be anything huge; you could bake a cake for work colleagues, mow your next-door neighbour's lawn or buy the person behind you in the Starbucks queue a coffee.
Destination MK and partners throughout the city will be asking the Milton Keynes Twitter community to use the hashtag #LoveMK on all their tweets on 2nd May to try and get it trending in the UK, as it has done for the past six years.
And why not get creative – how can you show your love for MK? Maybe create a banner, get your school involved, paint your face, knit a jumper – anything you can use #LoveMK on!
Everyone can get involved, you can download the #LoveMK poster from the Destination MK website, or just get creative with the hashtag and photograph yourselves spreading the love.
Carys Underwood, Marketing Manager at DMK, said: "Every year the MK social media community really gets behind #LoveMK Day and this year's 'Random Acts of Kindness' theme aims to harness that support and make it really tangible, why not get involved and help spread the love?"
On the day you can also follow @DestinationMK for your chance to win prizes as they run '12 competitions in 12 hours' where you could win by just using the hashtag.
You can download the #LoveMK Day poster from their website and get your photo taken to show your support, tweet it to @DestinationMK and they'll RT and add it to their Facebook gallery.
To find out more about Destination Milton Keynes or #LoveMK Day go to www.destinationmiltonkeynes.co.uk