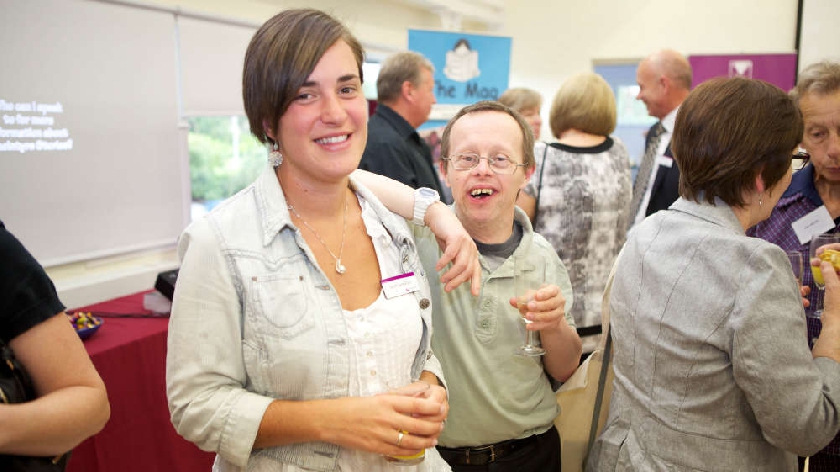 The charity is hosting a drop-in recruitment open day on Thursday 14 October between 12 – 7pm at Moot Hall, 54 Haddon, Great Holm, Milton Keynes, MK8 9HP (next door to the much loved MacIntyre Great Holm Coffee Shop).
MacIntyre is a national charity supporting young people and adults with a learning disability and/or autism in MK and surrounding areas. MacIntyre's vision is for all people with learning disabilities to live lives that make sense to them.
Free cake and drinks will be offered throughout the day, prepared by the MacIntyre Coffee Shop team, as you find out more about MacIntyre and the kind of roles available. There will also be the opportunity to participate in informal interviews or application workshops.
There will be an art display created by the people we support demonstrating how MacIntyre employees encourage individuals to thrive in their own individual way, as well as the chance to speak to our local teams, including our specialist learning disability nurse.
Each day is different when you work at MacIntyre. There are opportunities to work as a support worker, at one of the learning centres, residential services, or in the community, but wherever a new recruit is based, they would be fully supported and trained to provide support adults who have a learning disability and/or autism to live a life that makes sense to them. MacIntyre prides itself on its ability to work together to celebrate each person's unique gifts, talents and contributions.
Speaking as a current MacIntyre employee, Jessica said: "The people we support are amazing, the staff are brilliant, every day is different and the way MacIntyre celebrates their staff is like no other. It's amazing!"
Have any questions? Can't make the day but would like to find out more? Then call the area office on 01908 968130 to learn more!
MacIntyre are hiring in Milton Keynes!
Could you join the team?
No experience necessary
Part-time and full-time roles are available
Full training provided
Six weeks' annual leave including statutory public holidays
Access to the Blue Light Card which offers thousands of amazing discounts online and on the high street for emergency and social care staff.
To find out more visit: Milton Keynes Recruitment Fair | MacIntyre (macintyrecharity.org)