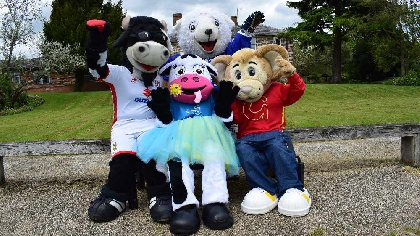 MK's fluffiest fundraisers are gearing up for the Willen Hospice Mini Moo Scooterthon, taking place this Sunday, 20 May.
Mascots Gully Mouse from Gulliver's Land, Charlie Monkey from Safari MK, Pucky from MK Lightening and Donny from MK Dons will join the Hospice's own Florence the Cow at the event to show their support to over a hundred local children who will be taking a sponsored spin around Willen Lake North.
The event starts at 10.30am from just outside the Hospice on Willen Lake North and is open to children aged between three and 11 years old. Online registration is open until this Thursday, or families can register in person on the day.
Events Fundraiser, Gemma Cantwell, said: "Scooterthon is such a fun event, and a really great way for children to get involved and do something to support their local hospice.
"We love being able to bring these events to a younger audience. We hope lots of local families will come down and join us on Sunday."
The scoot follows a one mile circular route around the lake. Children can do one or two laps but must be accompanied by an adult throughout.
There will be medals and goodies for everyone who takes part, as well as a celebration party at Safari MK for children who raise more than £100 for the Hospice.
The charity needs to raise £4.7 million from the local community every year to ensure they can continue to offer end of life care to patients in Milton Keynes and surrounding areas. Events like Scooterthon are a great way for the public to support the Hospice.
To sign up visit www.willen-hospice.org.uk/scooterthon