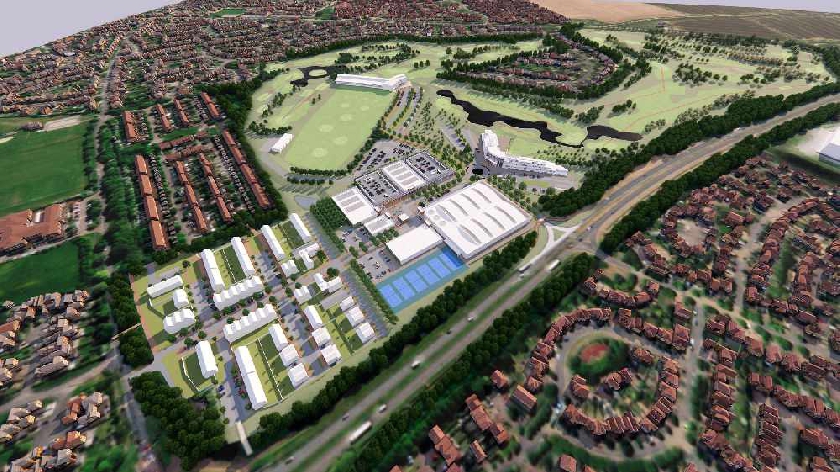 The proposed SportsHub
There will be a public exhibition at Xscape on Saturday (15/2) on plans for the development of a SportsHub at Windmill Hill Golf Course in Far Bletchley.
Private developers Evolve Project Management want to replace the current golf course, owned by Milton Keynes Council, with a new SportsHub.
The SportsHub proposal includes; indoor and outdoor tennis courts, a golf centre, new golf course layout, a cricket centre, a gymnastics centre, a learner swimming pool, a soft play centre, and a coffee outlet.
Up to 125 new homes and a hotel have also been proposed due to the scale of the development.
However, this is not the first development proposal that the private developers have published.
In July 2019, Evolve Project Management submitted its original proposals.
The original site development would have included a larger housing development of 150 new houses, a 200-250 room hotel, a petrol station with a drive-through coffee shop and small business units.
However, when presented to residents, local people shared concerns about the scale of the development, the potential loss of open space and the likelihood of extra traffic on nearby roads.
Evolve Project Management has since made changes and are now calling on residents for updated feedback.
Iain Layden, West Bletchley Parish Councillor and member of the Friends of Windmill Hill Golf Centre, said: "My objective is to make sure as many people as possible know about the exhibition, and about the proposals, so residents can provide feedback and Council members can make informed decisions.
"This is still a hot topic here, and we are expecting quite a large turnout at the exhibition from local residents and from users of the golf club. The golf course is very important to the local community. For many people in the area, it is a social centre as well as a golf course. It is also an important local facility for the elderly."
The West Bletchley Parish Council has not yet taken a position on the proposed development at this stage.
A statement released on behalf of the developers said: "Evolve want to find out what people in Milton Keynes think about the scheme before any formal planning process is commenced."
Residents can view the plans and provide feedback at Xscape from 10:00-18:00 on Saturday 15 February.
A four week consultation period will commence on 15 February until 14 March 2020, where residents are invited to fill out a questionnaire. Those who cannot make the exhibition on Saturday are encouraged to share their thoughts online.
To find out more information, view the detailed plans, and share your thoughts, please visit: https://www.sportshubmk.com.