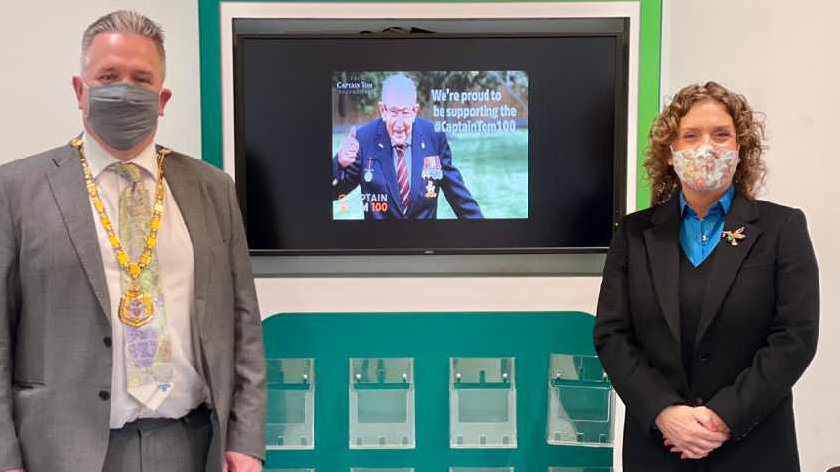 Andrew Geary, The Mayor of MK, recently met with Hannah Ingram-Moore on Tuesday morning (27/04) to promote the Captain Tom 100 challenge.
On his official Facebook page, the Mayor of Milton Keynes gave some details about his discussion with the daughter of the late Captain Sir Tom Moore. He said: "What an absolute delight to be invited on Tuesday morning to meet Hannah Ingram-Moore, daughter of the legendary Captain Tom Moore.
"It was so heart-warming to hear how such a potentially sad occasion has turned into a very positive and happy one. Here in MK, we embraced Captain Tom as one of our own, and his family were delighted to hear that message of support.
"Captain Tom for many years held his bank account at Lloyd's Bank, Saxon Court. Following his sad passing earlier this year Hannah went to the bank to finally close his account. What followed was somewhat overwhelming!
"Conversations from the lady in the desk to the branch manager to area manager to the National CEO of Lloyds bank have resulted in the Captain Tom 100 challenge.
"Hannah's message was so positive and was one of hope. It was a real honour for me to help launch this on Tuesday."
One year on from the day (6 April) that the late Captain Sir Tom Moore started his world-famous 100 laps around his garden, his family are inviting the world to celebrate Captain Tom's life, his generosity of spirit, the hope and joy he brought to millions and his sense of fun by taking part in a new fundraising initiative over what would have been his 101st birthday weekend.
The Captain Tom 100 challenge invites everyone to dream up a challenge based around the number 100 and complete it anytime and anywhere over Captain Tom's birthday weekend (30/04 - 03/05) to raise funds or donate to The Captain Tom Foundation or another charity of their choice.
Everyone is encouraged to join in the Captain Tom 100 challenge and "do it your way"; whether it's walking 100 steps or running 100 metres, scoring 100 goals, baking 100 cakes, climbing 100 stairs, hopping 100 laps of the garden or park, building 100 sandcastles, writing a 100-word poem, telling 100 people "tomorrow will be a good day", flipping 100 pancakes – anything at all.
Once supporters have chosen their Captain Tom 100 challenge, they are invited to fundraise or donate to The Captain Tom Foundation or another charity of their choice and share their 100 on social media, using the hashtag #CaptainTom100.
Captain Sir Tom Moore's daughter, Hannah Ingram-Moore, spoke about the inspiration behind the challenge as she said: "We are so grateful for the incredible support we have received since my father started his record-breaking fundraising walk and that his message of hope was shared with the world.
"Captain Tom was very proud to be able to leave behind the growing legacy of his Foundation and the Captain Tom 100 feels like the perfect way to celebrate the hope and joy we know he inspired in so many.
"He would have loved the idea that everyone could get involved and that together we would ensure that 'Tomorrow will be a good day'. We look forward to celebrating with you and seeing how you do the Captain Tom 100 – your way."
For more information, you can visit the official website by clicking here.