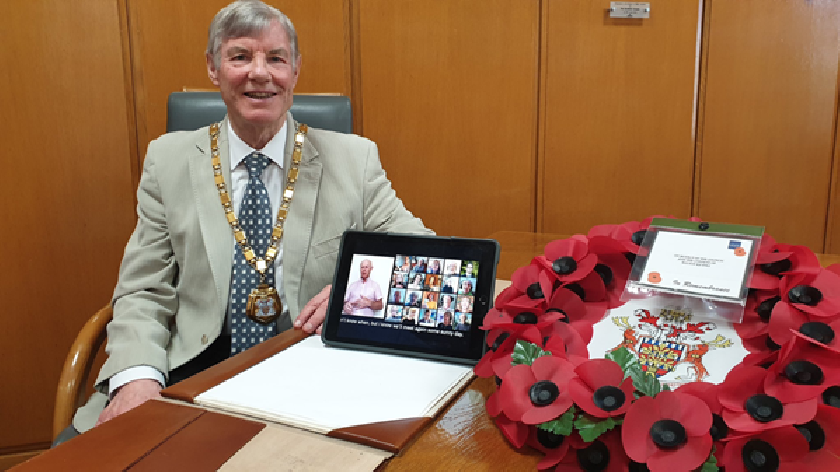 Mayor of Milton Keynes Sam Crooks will join Musica Charity Choir MK's virtual VE Day singalong on Friday 8 May.
Musica Charity Choir MK, who performed at the Mayor's Civic Reception earlier this year, have organised the virtual singalong to mark VE Day and in doing so raise awareness of the Covid-19 MK Emergency Response Appeal Fund, which was set up by MK Council and the MK Community Foundation and has already raised over £222,000.
Everyone across Milton Keynes is being encouraged to take part by singing along at 9pm on Friday 8 May to the Choir's rendition of 'We'll Meet Again', which they've published on their YouTube channel along with their alternative 'lockdown lyrics'. Everyone taking part is being urged to record and share their efforts on social media.
Musica's Music Director Ken Storry said: "Our alternative lyrics celebrate the way people are respecting the lockdown rules. We hope our version will help people to keep smiling through, just as the original song did in the 1940s, until we can all meet again."
Mayor of Milton Keynes, Sam Crooks said: "MusicaMK is a wonderful choir. Please listen and donate to the Council/Community Foundation's MK COVID-19 Emergency Appeal to help vulnerable MK residents. Turn the track on at 9pm on Friday night when we'll all 'We'll Meet Again' across the nation."
You'll find the words and music on YouTube here: https://www.youtube.com/watch?v=sKr9RGVF7VE&feature=youtu.be
Musica will be holding a Facebook event on Friday 8 May here: https://www.facebook.com/MusicaCCMK/
Donations can be made online here: https://www.mkcommunityfoundation.co.uk/mk-emergency-appeal/