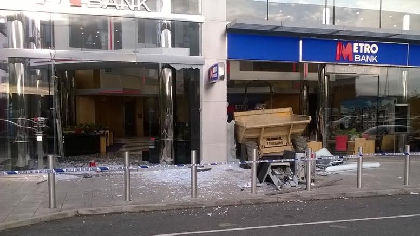 Photo - Darryl Ward
Thames Valley Police is appealing for witnesses after the ATM from Metro Bank in Oakgrove was 'ramraided' and stolen.
At around 4.22am today, four offenders drove a dumper truck into the front of the Metro Bank on Babbage Gate, Oakgrove. They then loaded the ATM into a dark coloured 4x4. The four offenders then drove away in the 4x4 and a white VW Golf.
Offenders are described as four men who were all wearing dark clothing and balaclavas.
Investigating officer, Det Sgt Simon Mountain of Local CID, based at Milton Keynes police station, said: "We are appealing for any witnesses to this incident to come forward."
"We would also like to hear from anyone who has mobile phone footage of the incident to please come forward and get in touch with us."
Local residents reported that the incident was so loud that it had woken them up during the night.
One local resident told MKFM ''The dog woke me up as he was barking. It must have been very well planned with two cars waiting as the getaway. It's the second time this has happened now and both times we have witnessed this happen."
In a tweet to customers, Metro Bank said "Whilst the Oakgrove store is closed, please visit our Milton Keynes Midsummer store so a colleague can help."