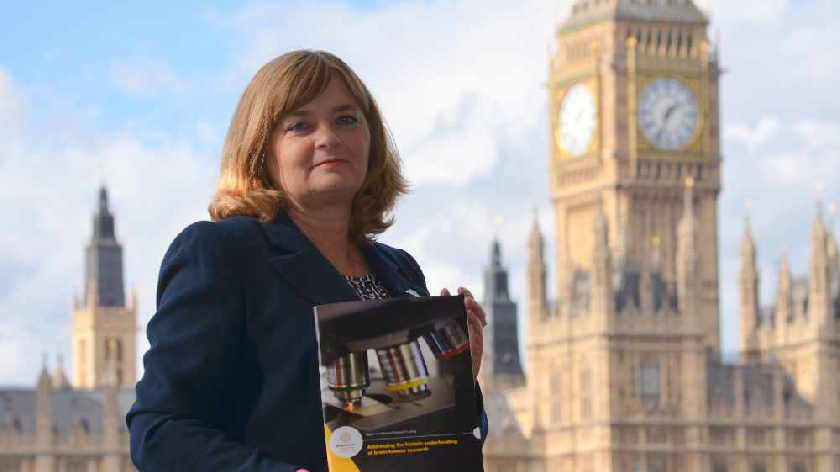 Image: Sue Farrington Smith at Westminster 2016
More than 112,000 patients and families affected by brain tumours are demanding action from the Government to fund research to help find a cure.
They have signed a petition created by the charity Brain Tumour Research based in Shenley Wood, calling for increased investment in scientific research to bring parity of funding with other cancers such as breast and leukaemia.
A report being circulated to MPs today (Thursday 15 April) highlights the fact that brain tumours kill more children and adults under the age of 40 than any other cancer. Historically, just 1% of the national cancer spend has been allocated to this devastating disease.
The charity says that since 2002, when cancer spend records began, £680 million has been invested in breast cancer while just £96 million has been spent on researching brain tumours; a difference of £35 million a year over 17 years. This disparity continues with brain tumour research spend continuing to receive £35 million a year less over the last three years.
In its Petition Report, Level Up and Stop the Devastation, the charity is calling on the Government to:
Introduce a new brain tumour research levelling up fund of £105 million
Increase the national investment into brain tumour research to £35 million a year
Demonstrate joined up thinking for investment across the brain tumour research pipeline
Prime Minister Boris Johnson has already confirmed he will receive the report from Derek Thomas, MP for St Ives. Speaking at Prime Minister's Questions (Wednesday 24 March) the PM said he looked forward to meeting with Mr Thomas, who is Chairman of the All Party Parliamentary Group on Brain Tumours once it was "safe to do so." The PM told the House of Commons that the Government had already promised an investment of £40 million but campaigners point out that, three years into the five-year period over which the funds had been promised, just £9 million has been allocated.
Speaking as the report was launched today, Mr Thomas said: "I am proud to continue to champion the cause for an increase in investment into brain tumour research. I never fail to be moved by the stories of families who have lost loved ones to this terrible disease and to patients themselves who show such bravery and commitment to finding improved outcomes for others and, ultimately, a cure. It is a great honour to be working with the charity Brain Tumour Research and I am looking forward to presenting this Petition Report, calling on the Government to match brain tumour research funding with other devastating cancers, to the Prime Minister.
"We know through COVID that properly funded research really can bring improvements in care, treatment and a cure. More than 100,000 people have signed this petition and are demanding action. It's time for a cure."
Among those supporting the petition is Edward Ruggiero, 33, from Bedford. Edward was living in Brighton and forging a career as a drag queen when he was diagnosed with a grade 3 anaplastic astrocytoma in 2017 at the age of 29. He was given a prognosis of three to five years and now feels he is living on borrowed time. A life-threatening infection following an awake craniotomy meant further surgery to remove part of his skull, leaving his head misshapen. Edward also has permanent hair loss as a result of treatment. He chose not to continue with a punishing chemotherapy regime and created a stunning photographic self-portrait capturing his appearance post-surgery.
"It seems so brutal that, in a world in which we have achieved so many things, the only treatment for brain cancer is to cut it out by surgery, burn it with radiation and poison it with chemotherapy," he said.
"With such a limited life expectancy, why would I waste any of that precious time putting myself through more horrific treatment for the sake of a few more months? Some days it's as much as I can do to get out of bed and that seems pitiful for a 33-year-old man at what should be the prime of my life. My brain tumour has robbed me of my career, my prospects and, ultimately, it will rob me of my life."
Sue Farrington Smith MBE, Chief Executive of Brain Tumour Research, said: "My sister's little girl Alison Phelan was diagnosed with a brain stem glioma (DIPG) brain tumour in August 2000. Ten months later we lost her, in June 2001, three weeks before her eighth birthday.
"Twenty years on and the fate of adults and children diagnosed with these tumours has not improved - in fact the five-year survival rate has fallen to just 12%. What's more, people diagnosed with low-grade tumours that become aggressive over time live with a ticking time bomb, not knowing if or when their tumour might become a lethal grade 4. In the meantime, they endure sometimes multiple surgeries, chemotherapy and radiation therapy. They can suffer changes in personality and more and more disabling impacts, and their loved ones' lives and livelihoods are changed forever as they become carers.
"These families do not have time on their hands – do we really need to continue the existing rhetoric that has failed them for a generation and wait another 20 years before a cure is found? These families need a cure now, they don't want to be told by their clinician to go and make memories, they deserve to be told what the treatment options are, treatments that will extend their loved ones' lives by more than mere months.
"Now is the time to give hope to the thousands of families impacted by a brain tumour every year. Along with more than 112,000 people, I am calling on the Government to make this the time to level up and stop the devastation."
For further details and to follow the progress of the Brain Tumour Research Petition please click here.