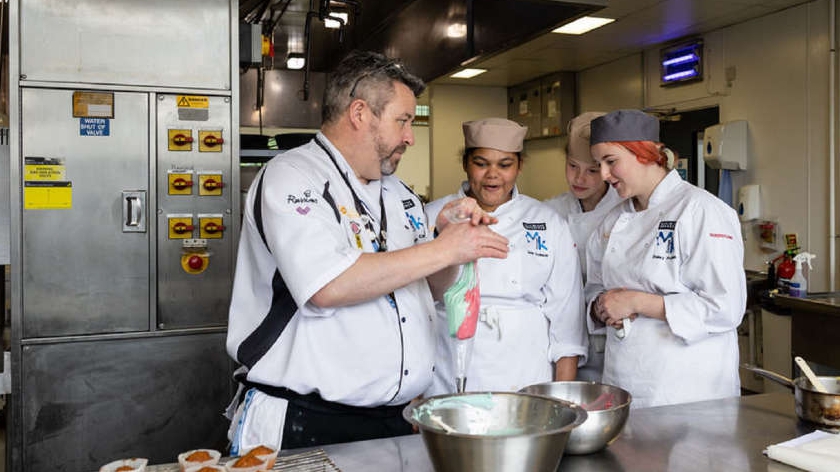 Milton Keynes College Group has teamed up with Northamptonshire-based Grande Cuisine, one of the UK's most prestigious suppliers of commercial cooking equipment, to create a new training resource for chefs of the future.
The Grande Cuisine Academy is home to dozens of instructional videos, almost all of them produced by the chefs who teach at the College, showing budding professionals how to carry out important skills like filleting a flat fish or making the perfect Hollandaise Sauce.
The site is free for anyone to use but it's specifically aimed at students in UK FE Colleges. Maria Bowness is Executive Head of 16 – 19 Provision at the College and she says it will be hugely helpful for students to learn essential skills. "Rather than students coming to a lesson to learn something from scratch they can watch their own teachers doing it first or use it for revision if there's something basic they've forgotten," she says. "It could save a great deal of time in the classroom and really give them the opportunity to hone those skills as they can go back over the films again and again."
Director of Grande Cuisine, Steve Hobbs, says, "Our company builds cooking suites for chefs from Michelin star restaurants down to the smallest private establishments and we've noticed in recent years our customers are getting older and there isn't the young blood coming through.
"The combination of Brexit and COVID has created a massive shortage of people to work in the industry, and it's vital for everyone that we train up plenty of new people to fill those gaps. By teaming up with Milton Keynes College we hope to encourage those culinary stars of the future without whom the sector will struggle to grow."
The site is completely free, and while there are already thousands of cooking videos out there, Maria says there is a genuine need for it. She says, "Many of the instructional films already online are American for example and do things differently from the way our chefs do. There's a wide variation in quality so the Grande Cuisine Academy will be somewhere students can go with full confidence that they'll see how to do things the right way in line with the curriculum."
Steve says: "Nothing stays the same forever and there will be new skills, tools and techniques which come along and which will need their own videos. For example, you only have to watch Masterchef to see how popular sous vide cookery is becoming and it will only be a matter of time before students are expected to have that skill and there will therefore be a need for top quality instructional videos to who them what to do."
Maria says, "The fact that Milton Keynes College Group has been asked to collaborate like this is just further proof of our high standing in the industry as a training provider of choice. We're delighted to be a part of the Grande Cuisine Academy and hope that it benefits not just our own students but many others around the world who want to learn the right way to cook and prepare delicious food."