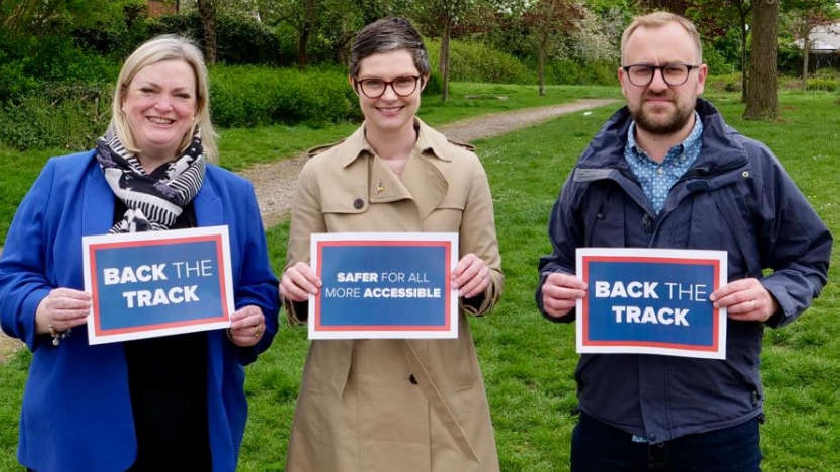 Local Conservatives in Milton Keynes have launched the "Back The Track" campaign with Member of Parliament, and Minister for Disabled People, Chloe Smith. 
The "Back The Track" campaign asks Milton Keynes Council, the Parks Trust and Loughton and Great Holm Parish Council to collaborate to make a plan to fix the track around Loughton Sports Field, which has been rutted for years and is causing accessibility issues for disabled residents.
At a resident meeting this week, concerns were raised that the track was unsafe, inaccessible and dangerous, especially when rainfall leaves the area muddied and hard to walk down.
Elderly residents from nearby Cavendish House also find it difficult to navigate the unsafe footpath due to its uneven surface.
Yesterday morning, Chloe Smith MP, joined local ward councillor Amanda Marlow along with Loughton resident and candidate for the Loughton and Shenley ward, Ethan Wilkinson, to inspect the area and join the campaign to fix the track to better accessibility for all residents.
Ethan Wilkinson commented: "Residents have raised the state of the sports track as an issue locally."
"Promises have been made to sort it out but nothing has ever happened so that has driven us to start this campaign, with the backing of the Minister for Disabled People, Chloe Smith, so that we can fix it and improve accessibility so that all residents can use the facilities."
Cllr Amanda Marlow added: "Back The Track is an important local-led campaign to ensure that all residents have access to the sports facilities on offer."
"At the moment, it causes accessibility problems that can mean some residents are simply not able to use the facilities through no fault of their own."