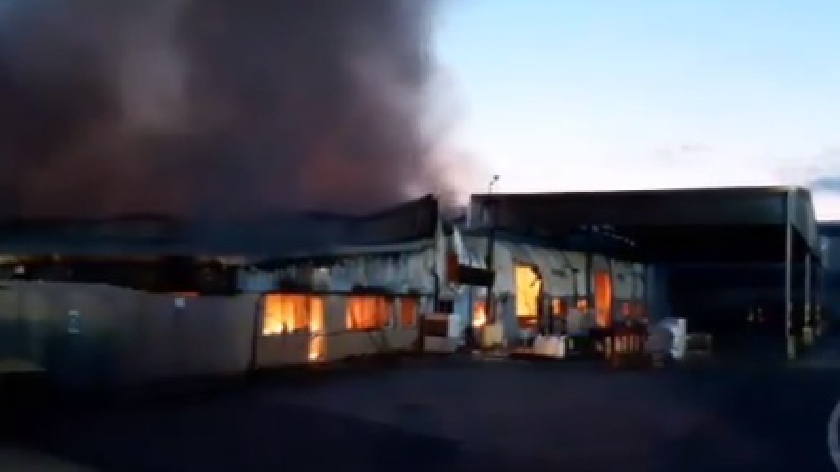 Local firefighters have been called in to assist with a major fire that occurred on Brackmills Industrial Estate, Northampton at 1:30am earlier this morning (01/05).
Attending the scene from Northamptonshire Fire & Rescue Service was eight appliances, including one high volume pump, two aerial appliances and two water bowsers.
Many industrial buildings were severely damaged by the fire, including the warehouse of baby gift retailer My 1st Years.
Due to the extensive size of the fire, local crews from Buckinghamshire Fire & Rescue Service were called in to assist with extinguishing the blaze.
In a statement released on their Twitter account, Bucks and MK Fire offered more details about the services they provided as they said: "Crews from West Ashland (turntable ladder), Broughton (rescue pump) and Aylesbury (water tanker) and one of our station commanders are assisting in this incident."
Pictures and video footage emerging from the scene show the extensive amount of damage the fire has caused to the area.
@northantsfire Fire crews have been doing an excellent job in tackling the fire since the early hours. Thanks to @Bucksfire for your assistance. https://t.co/wy7Rkgpb9O pic.twitter.com/5GWVfYZjny

— Dr Shaun Hallam (@ShaunHallamNFRS) May 1, 2021
In order to supply the fire with sufficient water, an additional emergency supply had to be quickly obtained from Northampton Waterski & wakeboard club.
The initial cause of the fire is unknown and it is not currently believed that anyone was injured in this incident.
Emergency services are advising people to stay clear of the area for the time being, with any nearby locals being told to keep their windows and door closed for the foreseeable future.
Road closures are in place on the A45 slip road and A428, with responding officers hopeful that they can reopen later this morning.