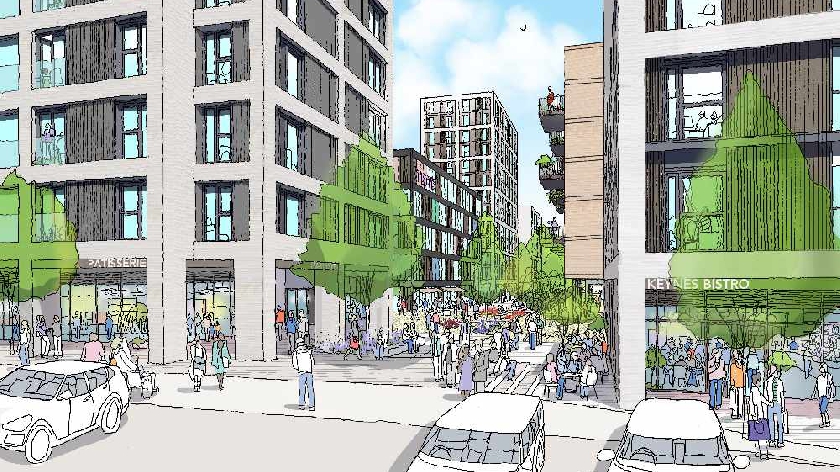 A bid to save the 34-year-old Food Centre in Central Milton Keynes by giving it protected heritage status was rejected by architecture watchdogs, it has been revealed.
Now, planning officers at Milton Keynes Council have recommended approval for a scheme to see 902 new homes being built on the 2.59 hectare site in a variety of blocks up to 13 floors high.
The council's development control committee of elected councillors will be asked to decide on the application at a meeting on Thursday, March 5.
The scheme, which is in two parts, also includes space for shops, leisure, community gardens, roof terraces, and food and drink uses.
The developers also want to keep but make changes to the existing multi-storey car park and provide a landscaped walkway from Avebury Boulevard to Midsummer Boulevard.
The scheme for new homes has been generally welcomed, although it attracted opposition from one resident who is worried about being overlooked.
And the background papers to next week's meeting reveal that an application to Historic England to grant listed status to the Food Centre buildings, built in 1986-88, was rejected.
And not only that, the Government issued a Certificate of Immunity from Listing (COI), which prevents the Food Centre from being added to the National Heritage List for England.
Historic England told the Secretary of State that despite is merits, the Food Centre does not meet the criteria for protection.
Heritage experts said it "does not have the higher level of special architectural and historic interest required."
"After examining all the records and other relevant information, the criteria for listing are not met. As it is not therefore recommended for listing a COI should be issued."
Site owner Hermes, who also own centre:mk, have already been granted permission to knock down the Food Centre, which housed a Sainsbury's supermarket and a Waitrose in its heyday.
The committee papers say that there have been no statutory objections to the plans and the only reason the issue is on the agenda is "due to the large scale nature of the development."
Central Milton Keynes Town Council has given its blessing to what it calls a "well designed application for a key site at the heart of the city centre.
"The application respects classic infrastructure, delivers attractive new public realm, increases activity and contributes a high quality piece of design in keeping with the heritage context of CMK.
"The town council also wishes to compliment the applicants for their comprehensive pre-application engagement."