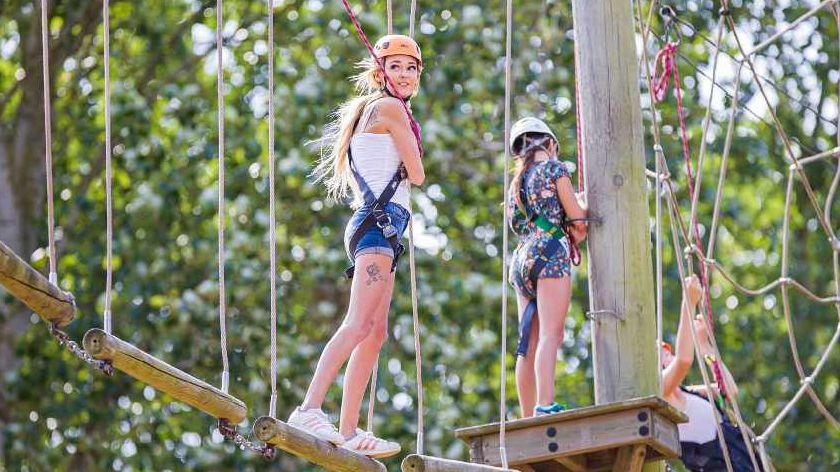 The adventure course at Willen Lake is available for anyone to try their hand at, proving they are over the age of 6 and at least 1.1 metres tall.
Describing the course in more detail, The Parks Trust say: "Treetop Extreme is the perfect adrenaline activity for all ages!
"We have three levels to choose from, each differing in height and difficulty, meaning there's something to suit all abilities - plus we have a climbing wall and freefall simulator to add more thrill to your experience.
"Our Explorer level is the perfect course for younger or more nervous adventurers. This level takes you no higher than 9 feet off the ground, so you can focus on having fun, rather than looking down!
"If you're feeling brave, our Adventure level consists of 16 obstacles and two zip wires, all elevated 15 feet off the ground. Your nerve and ability will be tested as you climb, swing and jump your way around!
"Our Extreme level is for those feeling fearless! Towering a phenomenal 35 feet above the ground, this aerial adventure not only provides spectacular views across the lake, but also consists of 16 obstacles and two zip wires (it's not for the faint hearted!).
"All of our levels use a continuous belay system, meaning you're attached at all times (so there's no need to worry about constantly unclipping and clipping yourself!)."
Can you steady your nerves and make it all the way around our high ropes course? #willenlake

Book your tickets for Treetop Extreme and find out!https://t.co/gwDEcSdglA pic.twitter.com/SF6S1C31wG

— Willen Lake (@willenlake) May 2, 2021
The Treetop Extreme course (weather subjective) every weekend and school holiday.
If you are interested in booking a place on the course, please click here for more information.
Locals are advised to double-check Willen Lake's latest statement on coronavirus before booking a place, which can be accessed by clicking here.