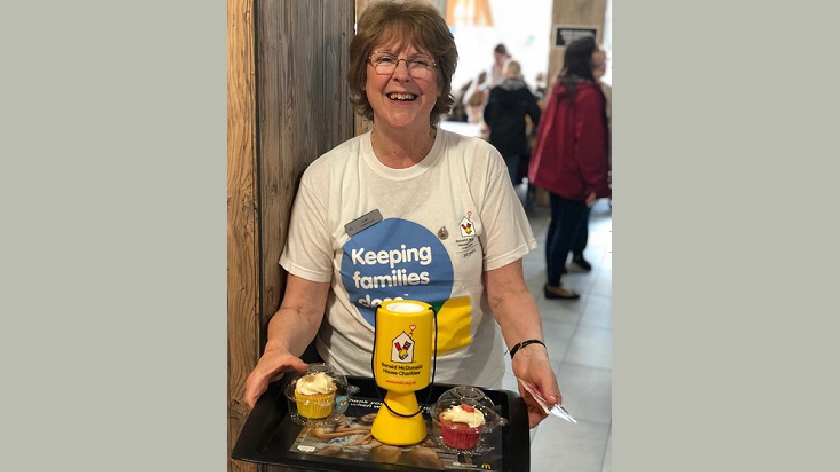 Image: Customer Care Assistant and RMHC Fundraiser Kathy
Ken Tomkins, local McDonald's franchisee has thanked local residents for their charitable donations during 2020, which will help cover the cost of almost 1,000 nights of accommodation for the families of sick children in hospital.
In a year where the COVID-19 pandemic put more strain on our wallets than ever before, local residents donated an incredible £24,632.69 for Ronald McDonald House Charities. Donations were received via collection boxes, kiosk donations and fundraising events in the six stores owned and operated by Ken.
Ronald McDonald House Charities provides free home-from-home accommodation for families while their child is sick in hospital. There are 12 Houses around the country, all located next to specialist hospitals. Our nearest Ronald McDonald House is next to the John Radcliffe Hospital in Oxford, and it serves dozens of Milton Keynes families each year. Accommodation is free for families, but a night's stay in a Ronald McDonald House costs the charity £25.
Ken said, "We're so grateful that in a very challenging year, our local customers have donated close to 1,000 nights of accommodation for families at what can often be the hardest time in their life. Having a child in hospital is unimaginable, but our Houses help to ease some of the stress and anxiety families face during those difficult times by keeping them close to their child and reducing the financial burden of a lengthy stay away from home. To anyone who has made a donation, no matter how big or small, thank you!"
Find out more about Ronald McDonald House Charities via their website here.