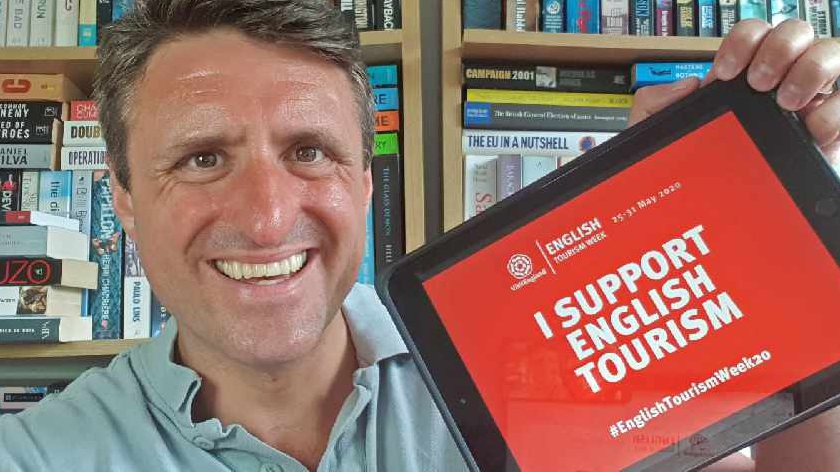 Ben Everitt MP and Iain Stewart MP are taking part in the first ever "virtual" English Tourism Week to show their support for the industry and highlight its importance to the local economy.
English Tourism Week is an annual celebration of the tourism industry, a week dedicated to showcasing England's tourism offer. For this year's virtual event, being held from 25-31 May, VisitEngland and local destinations are asking MPs, local authorities, the UK Government and other stakeholders to shine the spotlight on the importance of tourism to the local, regional and national economy and pledge their support to the sector's recovery.
VisitEngland is administering a £1.3m emergency fund to support local tourism organisations throughout the coronavirus outbreak. Under the scheme, destinations will be able to receive up to £2,500 per month for two members of non-furloughed staff who provide crucial business support services and up to £5,000 to cover operating costs.
Tourism is one of England's largest and most valuable industries, supporting hundreds of thousands of businesses, employing more than 2.6 million people and generating more than £106 billion a year for the English economy. Between 2016 and 2018 Milton Keynes welcomed on average 485,000 overnight trips per year, contributing £83 million per year to the local economy. With Milton Keynes being home to a range of loved destinations and sites for tourists.
And while the current situation means tourism is a little different at the moment both Hazard Alley and the historic Bletchley Park are offering virtual tours. Many of MK's stunning parks and lakes, including Willen Lake remain open to enjoy the sunny weather.
Ben Everitt, the MP for MK North, commented: "Now more than ever having outdoor green spaces to enjoy is so important for our mental health and MK is lucky to be full of beautiful parks, woodlands and lakes which you can enjoy during the recent sunny weather.
"It's also great to see the innovation of places like Bletchley Park and Hazard Alley in making sure people can still attend virtually, but of course nothing beats the real thing so make sure you pay a visit when they're safe to reopen!"
Milton Keynes South MP, Iain Stewart, commented: "We are lucky in Milton Keynes to have so many attractions right on our doorstep. It has been a source of solace to many in the current difficulties to be able to walk or cycle through our woods and parks for exercise. For me personally, it has been a real joy to see the emergence of flora and fauna in Howe Park Wood as we moved through spring and into summer.
"Hopefully it will not be too long before our great museums, music venues and other attractions can once again welcome visitors from near and far."
VisitEngland Director Andrew Stokes said: "English Tourism Week is all about highlighting the economic benefits that tourism brings to local economies, celebrating our diverse and exciting sector, and showcasing the quality, range and value of English tourism.
"While we cannot run events as usual this year, the spirit of the week has never been more important. Tourism has been one of the first and hardest hit economic sectors due to the Covid-19 pandemic and this year's virtual week is dedicated to showing support for the industry, the millions of people who work in it and the hundreds of thousands of businesses impacted.
"It is also about looking towards the future recovery and doing everything we can right now to ensure that tourism can bounce back to once again become one of the most successful and vibrant sectors of the economy."