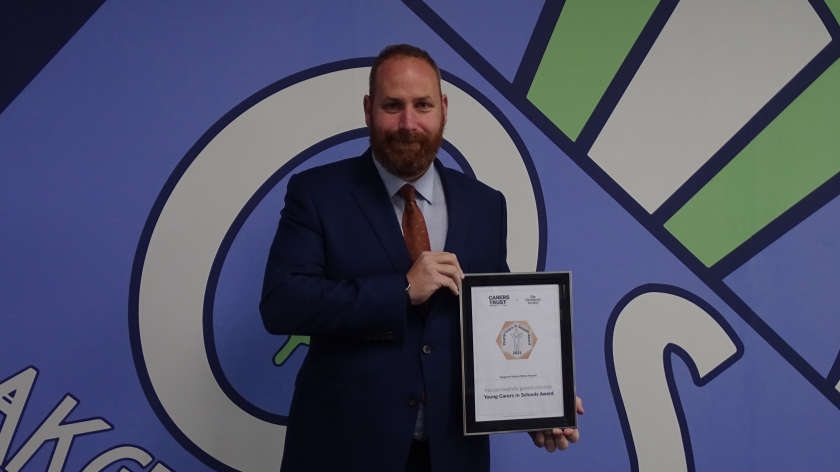 Oakgrove School has been awarded the Bronze Young Carers Award in recognition of their work to support young carers.
The school supports its young carers through homework clubs, virtual learning and drop-in sessions with a member of staff responsible for this vulnerable group of pupils.
The award also acknowledges that the school supplies vital information to its staff on how to identify young carers and that they successfully communicate to students and their families where and how to access help.
Thrilled that the Carers Trust and the Children's Society jointly credited Oakgrove School with this accolade, Headteacher Ian Tett said: "The school has been working hard to ensure that staff, parents and students are aware of the challenges faced by young carers and how they can best assist them.
"It is vital that the support the school offers will help to bridge potential achievement gaps, so that young carers can achieve the same grades as their peers.
"This extremely worthwhile programme will be rolled out to the rest of the Kingsbridge Educational Trust schools this month and we will share guidance and adapt resources when working closely with the primaries and our younger pupils."
The Young Carers in Schools programme helps primary and secondary schools improve outcomes for these students and celebrates good practice through the Young Carers in Schools Award.
Helen Leadbitter, National Young Carers lead at The Children's Society, is delighted that the Young Carers in Schools Programme is bringing about national change.
She said: "Hundreds of schools across England are participating in the Young Carers in Schools programme, using the tools and resources to improve their support systems, and ensuring that no child need miss out on educational opportunities because they are a carer.
"74% of schools who have achieved a Young Carers in Schools Award have noticed improved attendance among their young carers, and 94% have noticed improvements in their wellbeing and confidence."