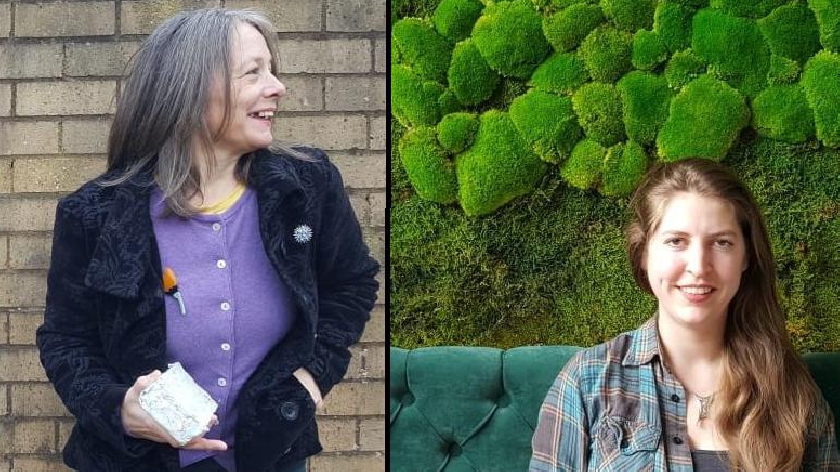 MK Community Foundation is pleased to announce the two winners of their Art Bursary, delivered in partnership with Milton Keynes Council.
The £500 bursary is intended to help individuals to make new developments in their creative practice and help them to achieve excellence in their future work.
Milton Keynes Community Foundation is delighted to announce that our 2019 Arts Bursary winners are: Sarah Wright and Michelle Sawbridge-Praties.
About Sarah
Sarah's speciality is drawing, and she has had over 20 years of experience in delivering workshops and classes for people of all ages to discover and unlock their unique potential for creating art. Sarah's approach is to teach people the five perceptual drawing skills, including the perception of edges, spaces, relationships, light and shadows and the perception of the art as a whole.
Through her teaching, Sarah hopes to provide a place where people can learn the skills needed to be able to draw confidently, but also for that individual to feel more confident in engaging more in the arts.
The idea that Sarah is now working on and nurturing is the notion of exploring the value of 'things' within her own environment and really looking into what those items mean to her and how she would be able to let them go and have the physical, as well as the mental space to move on. Using old drawings and materials that Sarah has made or used in the past, and recycling them, they will be transformed into papier-mâché bricks. Each brick would represent a specific time, or have its own value to it that would mark a point in Sarah's creative process. As the bricks grow in number, the collective presence becomes greater and would be able to be made into a wall that raises questions for the viewer, surrounding barriers and boundaries that we have to face in our lives.
Sarah intends on using the bursary to support the initial stage of creating the concept; allowing valuable time for the idea to be developed.
Michelle Sawbridge-Praties
Michelle is a Jewellery maker from Stony Stratford, whose work is inspired heavily by the natural landscape. Some of Michelle's collections include jewellery designed around mountains, glaciers and wild animals. Michelle also works on bespoke designs for people looking for something unique and personal to them; working closely with the client and what their personal ideas for the jewellery are is a vital part of the bespoke process.
Michelle is one of only a few silver-smiths in Milton Keynes and works from her own home studio in Stony Stratford, where she designs and creates each piece of jewellery from scratch. Each piece of jewellery is designed to have a unique and luxurious quality. Michelle explained to us that she works to be environmentally friendly by making the most of the sheets of precious metals that she uses, and ensuring that the parts of the sheets that aren't used, can be melted down and made into useable metal again and turned into stunning jewellery.
Michelle has worked to involve herself in the local creative scene in Milton Keynes over the past few years by spending time with other artists; either by mentoring other self-start-up artists in particular metal working techniques, or sharing advice on how to market their work and spread the word of their art. Michelle has also previously held a workshop at Arts for Health, which explored how to build a business around your craft, which she has described as a very rewarding experience.
Michelle is intending on using the bursary to purchase a course that covers Jewellery Design and Rendering, which will enable her to grow her practise more. The bursary will also be used for precious materials to support new collections to be released in time for Christmas, her busiest time of year. https://parkroadjewellery.com/