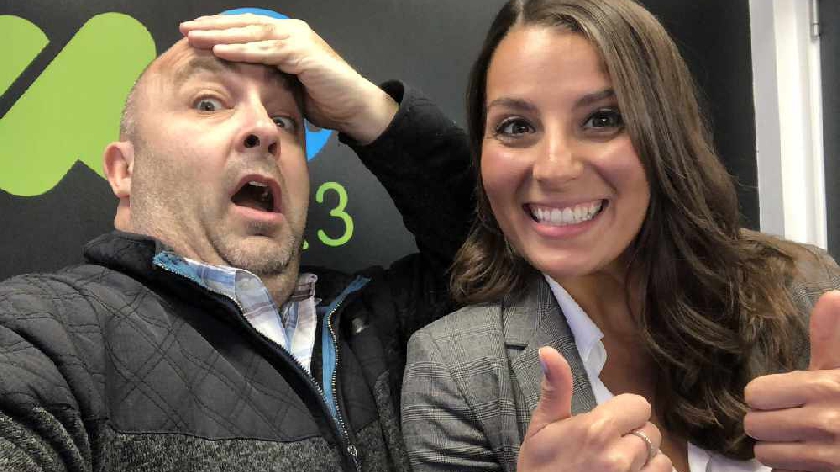 The event takes place on Saturday 22nd June with Milton Keynes Rugby Football Club
Regular listeners to the MK Breakfast Show have heard Darren roping Lia in to many charity challenges over the years but today the tables were turned, with the help of Darren's friend Tonie, who was first to pledge £100 if Darren signed up.
Within an hour on the show this morning further pledges came in with £600 being donated from listeners to ensure Darren walks the seven-mile route from Willen Hospice to MK Rugby Club in Emerson Valley.
The introduction of the Men's Moo follows the success of the Hospice's longstanding MK Midnight Moo, held for ladies each summer. The men's event comes in response to requests from dads, husbands and boyfriends for a similar fundraiser.
The Men's MK Midday Moo route will take in two pub stops along the way, and the Big Food Festival will be in full swing when the walkers arrive at the Rugby Club. Everyone who takes part will receive a finishers t-shirt.
Lia said on-air, "Darren has had me jumping out of planes, abseiling down the Holiday Inn, walking the Midnight Moo and so much more for local charities. It's now time for Darren to take on a challenge for a great cause."
Darren later posted on twitter, "OMG !!! @LiaCRadio has got me doing the Midday Moo for @willenhospice 6 people have pledged £100, meaning £600 already raised via @mkfm Breakfast Show so no getting out of it. Can we get this to 1K before the weekend?"
The event is open to all males over 14 years old. Registration for the walk is £20 each, which covers the cost of the event. Walkers are encouraged to fundraise as much as they can to help the Hospice raise additional funds.
The Men's Midday Moo is in addition to the ladies' MK Midnight Moo which will take place on 13 July. Ladies who haven't yet signed up are invited to join the ten-mile midnight walk, or new Half-Moo, through Milton Keynes.
Willen Hospice needs to raise £4.7 million a year, that's £9 a minute to continue caring for patients at the Hospice and in the community.
For more information and to book for the Men's MK Midday Moo, visit www.willen-hospice.org.uk/mensmoo