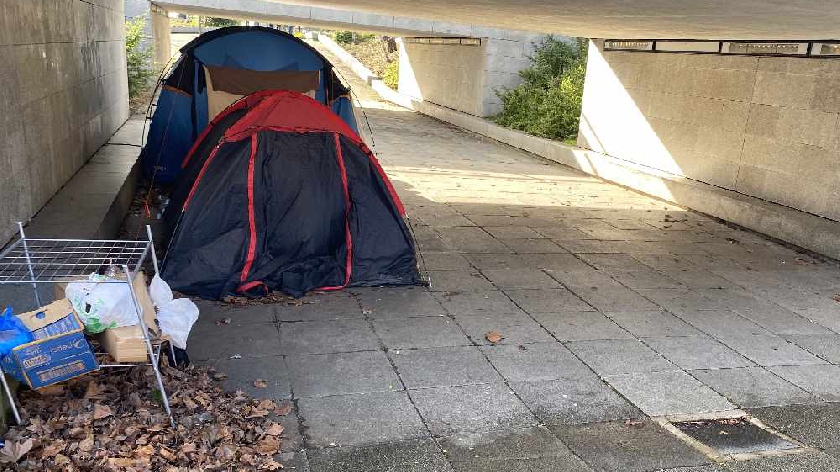 Milton Keynes Council will vote tonight on whether to pass the 2020/21 budget, with the Labour administration proposing to spend over £11m next year to tackle rough sleeping and homelessness.
Around £1m of revenue funding will be used to increase support and help to rough sleepers, with extra cash being proposed to improve social care and support services to people living on the streets.
Last year the council rolled out its "Housing First" scheme which offers accommodation to every rough sleeper in the city, with extra funding being required to meet housing costs and deliver support services.
However the council faces a hard core of people who will not engage with the council or other outreach services and the extra funding will be used to target people with additional complex needs.
The rest of the revenue funding will be used to meet the cost of accommodation for homeless people and families.
The budget also contains £7m of funding to start work on another phase of council houses. Labour-led MK Council has one of the biggest council house building programmes outside London. This funding is in response to an ever-growing number of homeless families having to live in council-provided temporary accommodation, with 1000 families now without a permanent home, including over 1500 children. It is hoped that extra house building will help reduce the number of homeless families and pressures on the council's budget.
The budget includes a 3.49% proposed increase in council tax, lower than all neighbouring councils, bringing MK Council an additional £3.6million a year, below the £4m extra being proposed on homelessness funding.
The council is required to make £6m in new cuts overall next year, bringing the total to around £165m since 2010.
Cllr Peter Marland, Leader of MK Council said: "Tonight the council will vote on our budget for the next year. Tackling homelessness is one of our top priorities and that is why we are proposing to spend an extra £11m on this issue. Ending rough sleeping, helping homeless families and providing much needed new homes.
"Last year we launched our Housing First scheme and we have helped over 75 rough sleepers into accommodation. We are proposing extra permanent funding to help provide even more support. There is no need for any person to be sleeping rough or sleeping in a tent. However we know many people have complex needs and some people, mainly around CMK train station and the shopping centre, are failing to engage with the council or partners, but we are going to invest even more to ensure the support is there.
"Every person deserves a safe, secure and affordable place to live. It is shocking that we have over 1000 homeless families on our books, which we believe is a national crisis that needs serious government intervention. Until then we will continue to deliver our major council house building programme and to invest in ensuring homeless people are supported when they need it most."