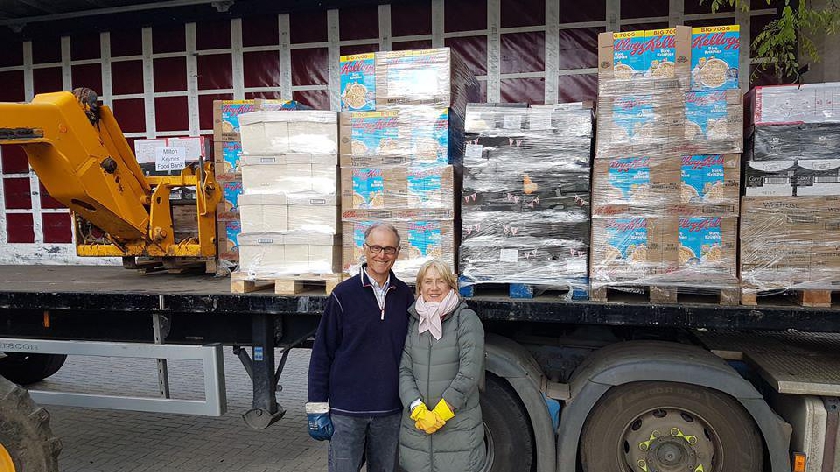 On Monday (11/5), Food Bank Xtra received a lorry full of food donations from Stephen Kimbell and his team of donors.
Food Bank Xtra is a city-wide food service providing vulnerable people with food parcels during the coronavirus outbreak.
Since the start of the pandemic, they have requested extra donations in order to cope with the overwhelming demand.
Residents have been donating food at their closest drop off points, Milton Keynes Council's offices in Saxon Court, and the Food Bank's warehouses in Stacey Bushes.
The latest largescale donation was from Stephen Kimbell and a team of donors who arranged a delivery of thousands of food items. George Bowyer, Cllr for Newport Pagnell North & Hanslope, said: "Huge thanks to Stephen Kimbell and his amazing team of donors who arranged a humungous delivery of food to MK Food Bank Extra yesterday - pallets and pallets and pallets of it - all paid for by kind donors."
A lorry was required to transport the masses of goods, and a JCB to unload the pallets. Cllr Bowyer continued: "And to Cawleys who provided the lorry for the transport. And to Cllr Peter Geary, who arranged the unloading of it all, and Messrs. A.R. Stacey and Son, of Castlethorpe, for the loan of the JCB."
Food Bank Xtra was launched in March by Milton Keynes Council and MK Food Bank to offer more help to local people in crisis during the COVID-19 pandemic.
Under the banner 'Food Bank Xtra', the Council is supporting MK Food Bank with additional staff and a new, larger distribution centre to ensure it has the right resources to cope with the additional demand.
People who wish to donate to Food Bank Xtra can contact the Food Bank Helpline (01908 565852) for advice on how to donate.
Currently, Food Bank Xtra is in need of:
Long life cartons: milk – whole or semi-skimmed, fruit juice.
Tinned: spaghetti, custard, rice pudding, fruit, vegetables, baked beans, pulses, meat, fish, tomatoes, soup .
Jars: spread (jam, peanut butter, marmite etc.) and pasta sauce.
Packets: soup, noodles, dried pasta, pulses and rice (500g or smaller), biscuits.
Breakfast cereal or porridge oats (500g packets or smaller).
Tea bags.
Food Bank Xtra is also accepting donations of nappies, sanitary towels, baby formula, toilet rolls and soap. However, Food Bank Xtra can't accept anything fresh, so please do not donate these items.
READ MORE: MK Council and The MK Food Bank team up on Food Bank Xtra