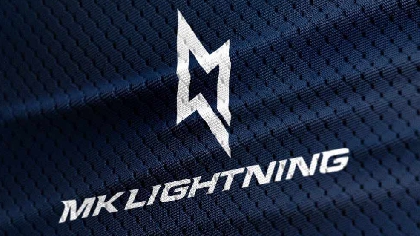 Milton Keynes Lightning have revealed the designs for the jerseys that Doug McKay's team will wear in their second Elite League campaign.
The away jersey will be white with navy and the club's traditional gold lightning bolt and the home jersey is navy with gold trim and a white lightning bolt (both shown below).
This season's warm-up jersey is a sure-fire stand-out in jet black with a distinctive forked lightning design right across the entire jersey.
Also available will be this season's jersey that the players will wear in the Challenge Cup competition - the vibrant pink of last season's Cup jersey, which was so incredibly popular with fans, is the main colour with navy trim and a gold Lightning bolt.
The Lightning are, as always, grateful for the assistance from Rhino Sport for their help in designing this season's fantastic jerseys.
The club will begin taking orders for all four jersey types from 8am Thursday 2nd August - orders received before 9am Monday 6th August will arrive in time for the start of the season.
And, new for this season, supporters can have their jersey presented by one of the team at the upcoming Meet The Players event later this month - the first time the club has ever offered this.
Orders placed before the end of the day on 31st August benefit from a price freeze, with each jersey costing £55 - exactly the same as last season. For orders placed from 1st September onwards the cost rises to £60.
As well as revealing the new designs, the Lightning's online shop has also released the numbers that current roster players will wear for the 2018/19 campaign.
James Griffin, the only player returning from last season, will still wear the number 15 jersey while all new arrivals have had their numbers revealed also.
MK Lightning 2018/19 Squad (Current)
1 Patrick Killeen
4 Ryan Lannon
10 Martin Mazanec
15 James Griffin
19 Georgs Golovkovs
21 David Norris
27 Cole Shudra
28 Tim Wallace
29 Michael Fine
33 Joonas Huovinen
77 Owen Griffiths
81 Radek Meidl
84 Adam Goss