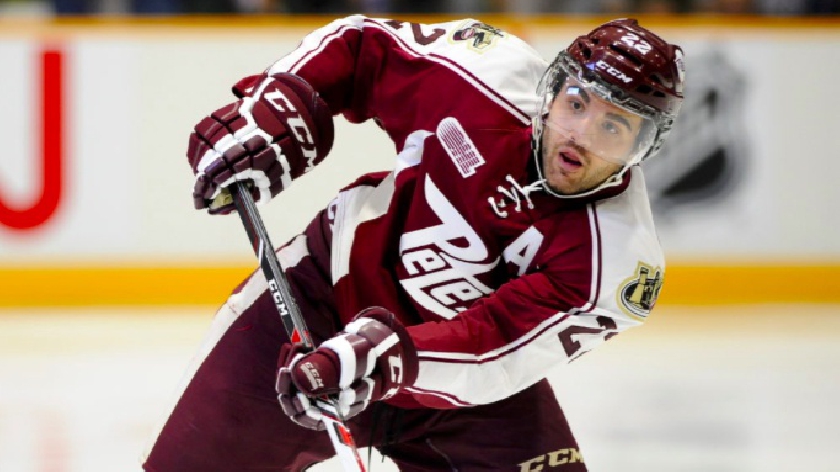 Image Credit: Peterborough Petes Ice Hockey Club
Milton Keynes Lightning continue to add to their roster with the signing of promising Canadian defenceman Nelson Armstrong.
24-year-old Armstrong from Peterborough, Ontario, joins the Lightning after spending the majority of the past two seasons with ECHL club the Florida Everblades.
The Everblades, who are affiliates of NHL club the Carolina Hurricanes, were named winners of the Brabham Cup last season, awarded to the champions of the ECHL's regular season, with the team earning 112 points.
The South Division champions reached the playoff finals but were unable to lift the Kelly Cup, losing to the Colorado Eagles over a seven-game series.
The 6-foot-1, 205lbs left-handed Armstrong started his hockey career playing for his hometown teams, earning 37 points (11 goals, 26 assists) in 48 Ontario Junior Hockey League games.
He then moved to St. Lawrence University and played 44 regular season games across two NCAA seasons before moving to major juniors in Canada.
He played for the Peterborough Petes, the new home of Great Britain international Liam Kirk, and was named as an alternate captain in his second season in the OHL.
He posted good offensive numbers with the Petes, registering 12 goals and 58 total points in 91 regular season games, adding a further four assists in 11 playoff games in the 2013/14 season.
He then returned to college hockey, this time with the University of Prince Edward Island.
He spent three seasons with Prince Edward Island, playing 85 regular season games and earning 39 total points (nine goals, 30 assists), before he moved to the Everblades in the second half of the 2016/17 season.
The 2018/19 season will be Armstrong's first outside of North America but he brings with him a good pedigree from his home country and a winning reputation from his time in the ECHL.
Head coach and general manager of the Lightning, Doug McKay, is looking forward to seeing what Armstrong can do.
He said: "I heard good reports about Armstrong when I heard he was available. He has a level head on his shoulders and offensive ability as well as defensive."
"This is going to be a tough and physical league this season but I'm confident he can handle whatever is thrown at him."
Armstrong is expected to be the first of three new signings announced by the Lightning this week, with the club teasing their own 'triple header' over the next couple of days.