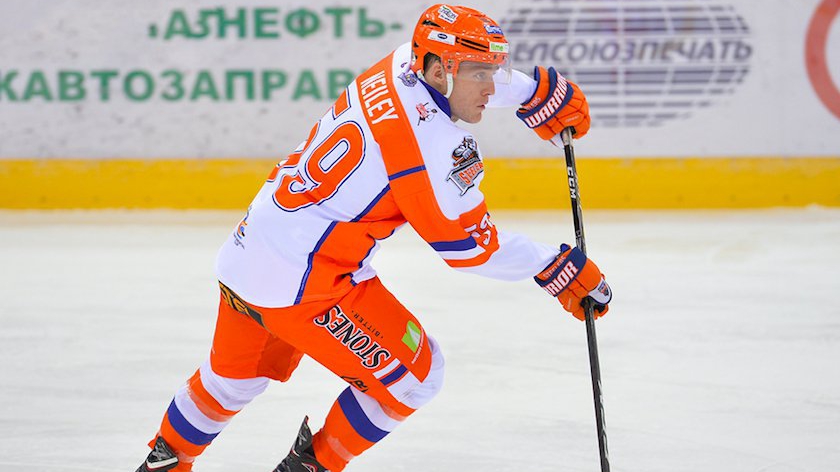 Image Credit: Sheffield Steelers Ice Hockey Club
Milton Keynes Lightning have announced the signing of American winger Eric Neiley, luring him out of his early retirement.
Pennsylvania native Neiley, 26, joins the Lightning on the back of a strong spell with fellow EIHL club the Sheffield Steelers, with whom he registered 21 points (10 goals, 11 assists) in 25 regular season games last season.
Prior to his spell in the UK, Neiley spent his entire career in his native USA – featuring regularly at both the college level and in the ECHL.
His college days saw him play for Dartmouth College in the NCAA between 2011 and 2015, earning 94 points (45 goals, 49 assists) in 129 regular season games.
He also managed to make seven appearances for the Providence Bruins in the American Hockey League after finishing college, before spending the better part of three seasons in the ECHL.
In 138 regular season games, Neiley registered 44 goals and 88 total points, playing for both the Atlanta Gladiators and the New Jersey Devils affiliates the Adirondack Thunder.
His strong performances in the ECHL earned him his move to Sheffield, where he also played in the EIHL Cup and Continental Cup, earning four points in five games between the two competitions.
Steelers Head Coach Paul Thompson also cited him as their best player during the playoffs, commenting: "He has grit…scores goals in the dirty areas; he knows the places to go."
At the end of last season, Neiley decided to retire from hockey to take up a work opportunity back in his home country; but it seems that the lure of the sport was too strong - and Lightning Head Coach Doug McKay capitalised, persuading the forward to return to the sport.
"I was working full time and wasn't enjoying myself. I kept having doubts about whether I stopped playing too soon," said Neiley.
"It's not something I want to regret later on in life so I thought about it and talked with my family and realised I want to keep playing."
"I enjoyed my time in the UK last year so I wanted to come back to the league. I have the support of my family and my fiancée. That allows me to keep living my dream."
"Doug and I had a great connection right away. He explained his experience and the opportunity available in Milton Keynes. It's an up and coming team in the league and I'm excited to be a part of it."