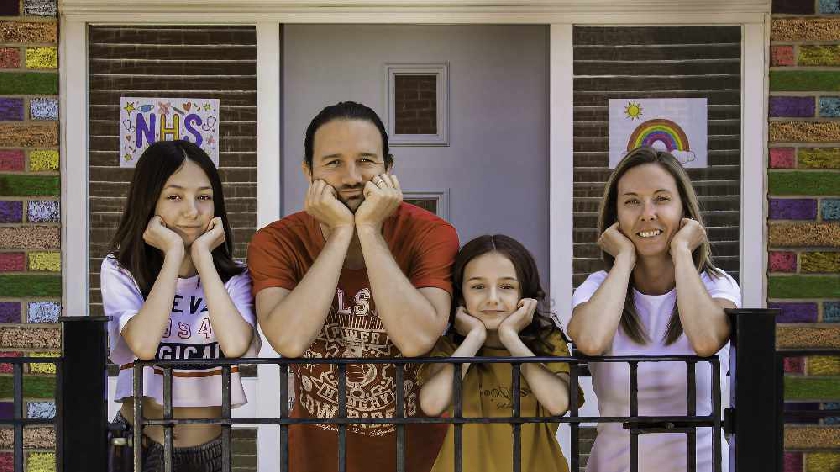 A local family © Stace Photography
A brand new MK Gallery exhibition will be documenting the lives of local people during lockdown.
The past year has been full of uncertainty; being told that we had to stay at home, not knowing how long for, to help save the lives of the community.
It has also been a time full of community spirit, with households taking to their doorsteps each week to applaud the work of the NHS, putting rainbows in their windows, and lighting candles for the lives that have been lost.
In May 2020, a local photographer, Stace from Stace Photography, decided to permanently document the unprecedented times by offering free doorstep portrait photos to households across the city.
And as we emerge from what the Government hopes will be the final lockdown, these photographs will be shown in an exhibition at the MK Gallery - called Doorstep Diaries MK.
Doorstep Diaries MK, which will be held from 18th May to the 27th June, will also feature interviews with local residents about their experience of the past year.
The exhibition project has been launched by Stace Photography in collaboration with Living Archive MK and has been funded by the Milton Keynes Community Foundation to preserve and share the history of Milton Keynes during the COVID-19 pandemic
And Stace is excited that her work will become part of local history. The Milton Keynes-based photographer said: "We are thrilled to be exhibiting our Doorstep Diaries MK project alongside Lockdown Lives MK at MK Gallery project space.
"It is fantastic that we are able to exhibit our project in our local gallery as it was all about recognising the Milton Keynes community and we welcome everyone to join to us, for free, to celebrate positive moments captured during lockdown."
A spokesperson for MK Gallery added: "Featured in this exhibition are a series of images which show natural and authentic moments in the community. Shared smiles and laughter highlight genuine connections and togetherness. Many of the photographs are displayed on reclaimed wood from Milton Keynes."
Doorstep Diaries MK will be held at the MK Gallery from 18th May to 27th June and it is free of charge. More details can be found here.