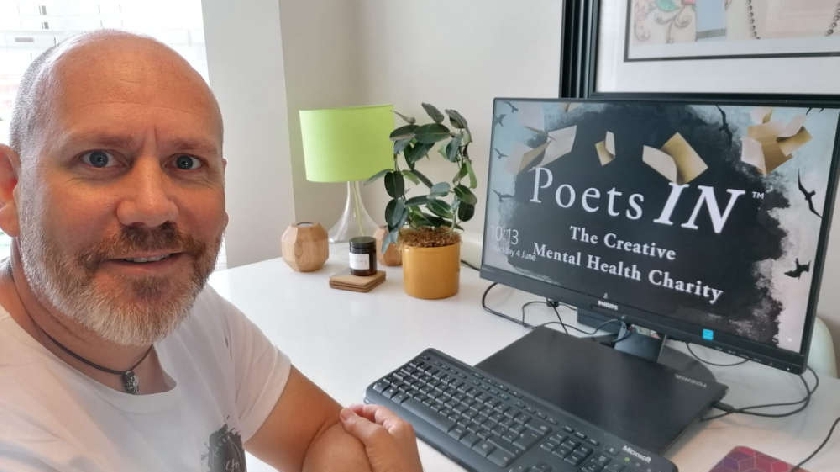 Young people living in Milton Keynes who feel isolated and unable to access mental health services will be given a lifeline thanks to a new support programme.
The Creative Mental Health Charity PoetsIN has been awarded £8,258 by the Central and North West London NHS Foundation Trust to work with 18 to 25 year olds in Milton Keynes.
This funding is to support young people who may have fallen through the gaps of services, including students, those impacted by the pandemic and people with a severe mental illness. The aim is to help them confidently manage their own mental health or support them in having confidence to access services.
PoetsIN is an award-winning organisation based in Hertfordshire which offers a safe space for people who suffer from depression and anxiety.
Its Creative Mental Health Programme™ encourages people to express their feelings via the medium of writing or other creative approaches.
Paul Chambers, Co-founder of PoetsIN, said: "According to The Children's Society, 75 per cent of young people with mental health problems are not getting the help they need.
"COVID-19 has exacerbated this problem. The pandemic and the lockdowns have affected so many people, with the NHS forecasting there will be 1.8 million new referrals to mental health services in the next three years as a result of COVID-19.
"That is why support is so important and we thank North West London NHS Foundation Trust for giving us the opportunity to do this vital work and provide a lifeline to vulnerable people. Our work really can save lives."
The award-winning mental health charity applied to a funding call from North West London NHS Foundation Trust to provide a holistic support programme to support the mental health of young people aged 18 to 25, including students and people with a severe mental illness.
Responding to the request, the trust said: "We've reviewed your proposal and we feel this would be a great programme to support young people in Milton Keynes. We have received a lot of interest for this award, and I am pleased to advise that we would like to award £8,258.00."
Sammie alongside Co-founder Paul Chambers have both lived experience of mental ill-health diagnoses stretching back to childhood and a shared experience of coping with their symptoms to keep them safe. It was this shared experience that motivated them to utilise their creative coping and management strategies to give others a voice and help them on their journey to recovery and health.