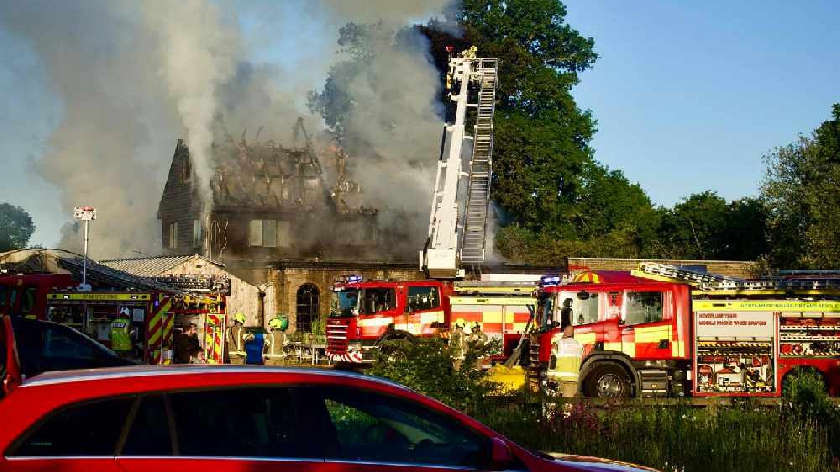 Cameron Walton (Northants On Blues)
The owners of Hobby Fish aquatic shop in Potterspury, north of Milton Keynes, which suffered from a fire on Bank Holiday Monday have spoken out.
More than fifty creatures, including snakes and tarantulas, were rescued by firefighters from a fire at Hobby Fish on Monday.
Now the owners have spoken out publicly about their plans for the future.
Jonathan and Julian said: "We have been taken aback with the overwhelming response and kind words we have received since Monday when a fire devastated our store and family home above."
"For the last few days we have been working with the fire services and our insurers to determine the cause of the fire and the next step to take. During this time we appreciate all the support and well wishes."
"The fire started in the early hours of Monday morning waking Jonathan up. He phoned the emergency services whilst getting the cat out and then worked with them to remove the animals from Wrigglies next door."
"The fire spread from the back in the cold water tunnel, while the teams worked to try and save as many animals as possible, to the main buildings and home above. All the reptiles from Wrigglies were taken to their other shops."
"The koi and cold water fish have been relocated to friends and fellow fish shops. A large shipment of koi due later in the day was redirected to other shops."
"The fire burned for most of the day with 6 fire crews in attendance and we were blown away by the fire services reaction, dedication and compassion they showed during this very difficult time."
"The focus throughout was on the livestock saving as many as possible under the incredibly difficult circumstances. We are unable to enter the building yet safely. Electricity and water has been cut to the site at present but we have set up on site to keep what's left secure."
"We've been trading for 50 years now and are coming to terms with what has happened. Our focus must now be to get going again."
"Please bear with us as we do so."
"We will have temporary buildings erected but in the mean time for this weekend we will sell stock from the front of store from racks, tables and car boot."
"We do have quite large stocks of many products, just not everything right now, but have had 6 pallets of product arrive this week from JBL and Red Sea for instance. More next week as we get organised."
"Preformed ponds and liners will be on sale with some special offers from this weekend."
"If you can't see something please ask, we may have it."
"If we don't we can normally have it delivered."
"More pond plants are coming early next week and we will also be drawing on some of our behind the scene stocks."
"If you need specific items then please visit, or get in touch via Facebook messenger. Our email will be up soon as we establish an office with generator."
"If you phone you will be redirected to a personal mobile and may not get answered if being used for IZettle card payments at the time. We will do our best to get back to you."
"All this will change later next week."
"You can also order as normal online from pondpumpsuk.online for all your pond kit and koralkavern.co.uk for marine oriented aquariums and equipment. More products will be added to these websites."
"Thank you once again for all the kind words, it makes a difference knowing there's so much positivity and support."
"Please don't be afraid to pop down even if just to say hello. We will be so pleased to see you."