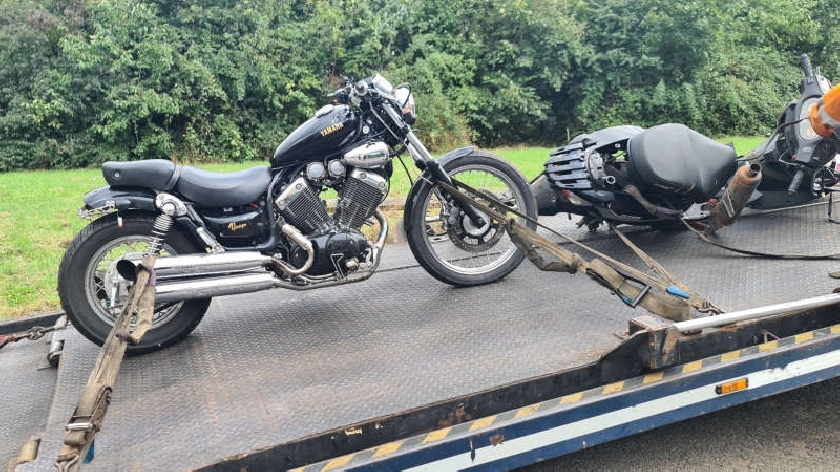 Police have seized two stolen bikes from joyriders that were riding around Milton Keynes estates.
Last Friday, Officers from the Milton Keynes South Neighbourhood Policing Team found two confirmed stolen motorbikes in a back garden in Netherfield.
The find came after officers saw one of the bikes being driven around the estate.
Joyriding on Redways and in estates across Milton Keynes is becoming a common problem with residents taking to social media to complain about noise regularly.
Thames Valley Police say: "Little did they know we had seen them but they didn't see us. They went off road and across some grass into some bushes, leaving tyre marks to a garden."
"Officers looked over the fence and saw the joyriders trying to cover the motorbikes using a tarpaulin. Once the bikes were covered one of the joyriders decided to jump over the fence in an attempt to get away.
"As they came over the fence one of the officers called them by their name. The joyrider clearly wasn't expecting us to be on the other side and jumped straight back over. Both joyriders fled the house leaving the motorbikes behind."

Police sezied both stolen bikes and both joyriders were identified.

TVP say both owners have been informed that their bikes have been located and that officers are progressing the investigation.
Last week, Milton Keynes South Neighbourhood Policing Team located several burnt out mopeds. The stolen mopeds were almost unrecognisable when found by police.
READ MORE: Warning to moped owners after several burnt out bikes found across Milton Keynes
READ MORE: Helicopter takes to the skies over Milton Keynes as police chase redway riders