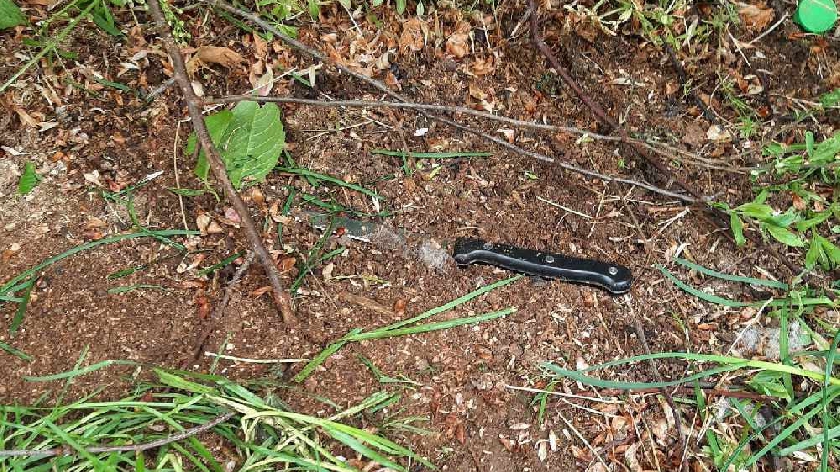 Photo: TVP Milton Keynes
Police officers have shared a photograph of their grim discovery - a large knife that was next to a local footpath.
Thames Valley Police is currently taking part in Operation Sceptre, a week-long campaign aiming to reduce knife crime and educate people about the dangers of carrying a weapon.
As part of the operations, officers have been out and about across Milton Keynes conducting weapon sweeps. These sweeps aim to locate any weapons that have been concealed in public spaces, with the intention of them being readily available for use in crime.
Yesterday morning (29/4), while searching Hodge Lea, the North Neighbourhood team discovered a large kitchen knife that was hidden underneath a log.
This knife was not far from a footpath, meaning that an offender could have easily grabbed it and used it to inflict harm on another person.
The weapon has been seized by police and will be destroyed.
Patrols and weapon sweeps will be continuing across Milton Keynes this weekend as part of Operation Sceptre.
Residents are encouraged to "stop and say hello" if they see any officers in their local area.
In other news, as part of the week-long campaign, a knife amnesty is being held at Milton Keynes Police Station.
This is where members of the public can dispose of knives and sharp objects without fear of being punished.
Knives, or other sharp objects, should be safely wrapped in tape and newspaper before being put in the knife amnesty bin.
The knife amnesty will be at the local police station until this coming Sunday (2/4).
READ MORE: Knife amnesty launched in Milton Keynes allowing people to anonymously dispose of weapons