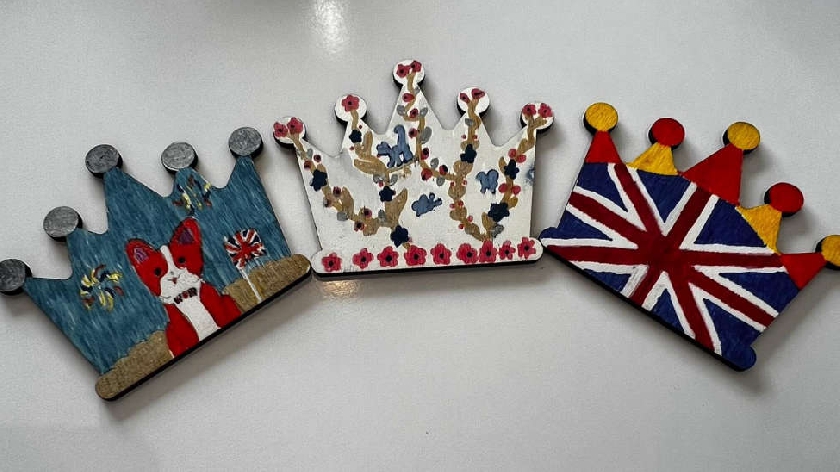 To mark the Queen's Platinum Jubilee celebrations, Olney Middle School pupils were tasked with taking part in a crown decorating competition.
Taylor Wimpey South Midlands challenged the students at Olney Middle School to get creative and decorate wooden crowns, which are now on display at the nearby Yardley Manor development.
A large number of pupils entered the competition, sharing their magnificent designs for judging.
The entrants' designs featured the Union Jack, the Queen's corgis and lots of colour, with the Taylor Wimpey team being spoilt for choice when it came to choosing the competition winner.
In the end, Year 5 student Evie wowed the judges with her crown design of one of the Queen's corgis and was declared the winner. She will be awarded a £50 Waterstone voucher for her outstanding design.
Second place was awarded to Bohaslava and third went to Flynn, for their outstanding designs.
Commenting on the competition, Sarah Lowe, from Olney Middle School, said "The Queen's Platinum Jubilee is a historic milestone and we were delighted when Taylor Wimpey approached us about taking part in this competition. The children had an amazing time decorating their crowns and we look forward to seeing them all displayed at the local sales office soon."
Fiona Lloyd, Sales and Marketing Director at Taylor Wimpey South Midlands, says: "We would like to say a huge thank you to all the pupils at Olney Middle School who got involved with our crown design competition to celebrate the Queen's Platinum Jubilee. We enjoyed getting to see how creative the children got with their crown designs and can't wait to see the winning design along with the rest of the crowns on display soon for the whole community to enjoy."
Taylor Wimpey is building new homes at its Yardley Manor development in Olney. For further information visit here.