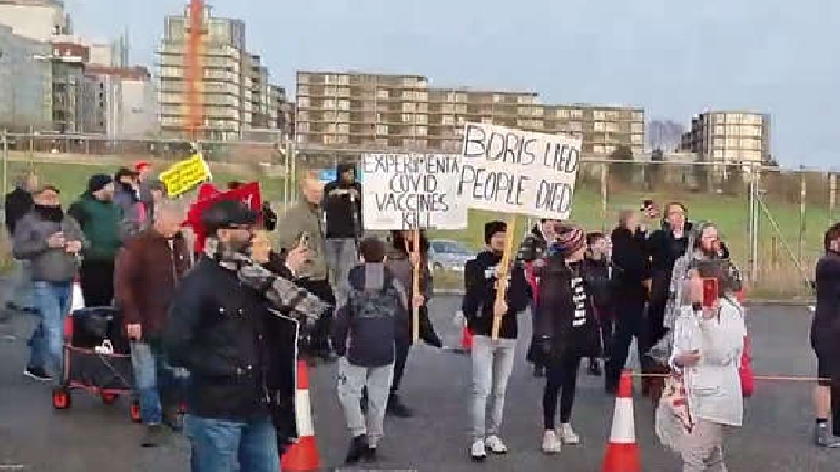 The Conservative home secretary says police will have her 'full support' to take swift action against anti-vaccine protesters.
On Wednesday afternoon (29/12), a large number of protestors stormed the Central Milton Keynes coronavirus testing centre and then went on to disrupt a pantomime at the Milton Keynes Theatre.
The protests are believed to have been against Covid-19 restrictions, with dozens of people were seen in the video holding anti-vaccine placards and shouting anti-vaccine slogans.
Priti Patel tweeted: "I am being kept updated on Thames Valley Police's investigation into the incident involving an anti-vax protest yesterday. It is more important than ever that people have their vaccinations and booster jabs…
"...and it is completely unacceptable that conspiracy theorists are intimidating and harassing those administering tests or delivering the life-saving vaccine programme. The police have my full support to take swift action where necessary.
"We'll always give the police the powers & resources they need to keep the British people safe. That's why we're bringing forward measures in the Police, Crime, Sentencing & Courts Bill to crack down on public nuisance & disruptive protests that impact the law-abiding majority."
The protests at the test centre come as the UKHSA warned that tests could be temporarily unavailable to order due to "exceptionally high demand".
At some points on Wednesday morning, the day of the protests, lateral flow and PCR tests were both unavailable for home delivery across the UK via the government website.
TVP released an image of a woman officers would like to speak to in connection with an investigation into a theft, after an individual was seen taking equipment.
An investigation is ongoing and no arrests have been made at this time.
READ MORE: Anti-vaxxers cause chaos across Milton Keynes as protesters storm theatre and test site
1/ I am being kept updated on @ThamesVP's investigation into the incident involving an anti-vax protest yesterday.

It is more important than ever that people have their vaccinations and booster jabs…

— Priti Patel (@pritipatel) December 30, 2021