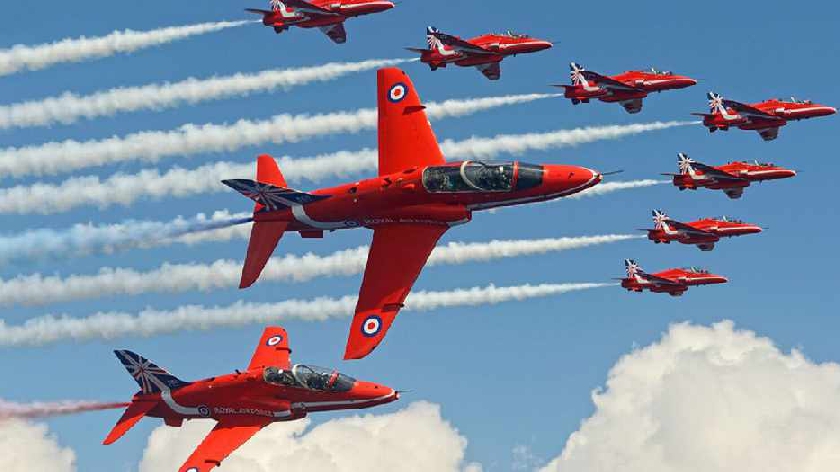 The famous RAF aerobatics display team is set to perform a flypast later this afternoon above Buckinghamshire on their way to the Midlands Air Festival.
This display will mark the 77th anniversary of the D-Day landings in the Red Arrow's first appearance this year.
It is expected that the squadron will depart from Exeter at around 1:35pm later today as they make their way towards Worcestershire for the air festival.
By 2:06pm, the Red Arrows should be visible to many locals as they will be in the vicinity of Leighton Buzzard.
Following the flyover, the Red Arrows will then head for the Shuttleworth Festival at around 2.09pm, before they fly over the Cambridgeshire area on their route to Lincolnshire.
The expected route in full as is as follows, though times and exact locations may vary due to weather conditions:
Exeter - 1.35pm
West of Cullompton - 1.37pm
South west of Norton St Philip - 1.45pm
West of Great Malvern - 1.53pm
South east of Worcester - 1.55pm
Midlands Air Festival flypast - 1.57pm
West of Stratford -upon-Avon - 1.58pm
North west of Oxhill - 1.59pm
Long Compton - 2pm
VCY of Leighton Buzzard - 2.06pm
North West of Clophill - 2.08pm
Shuttleworth Festival Flypast - 2.09pm
Potton - 2.10pm
North west of March - 2.14pm
North west of Bottesford - 2.20pm
Collingham, Notts - 2.22pm
RAF Scampton - 2.25pm