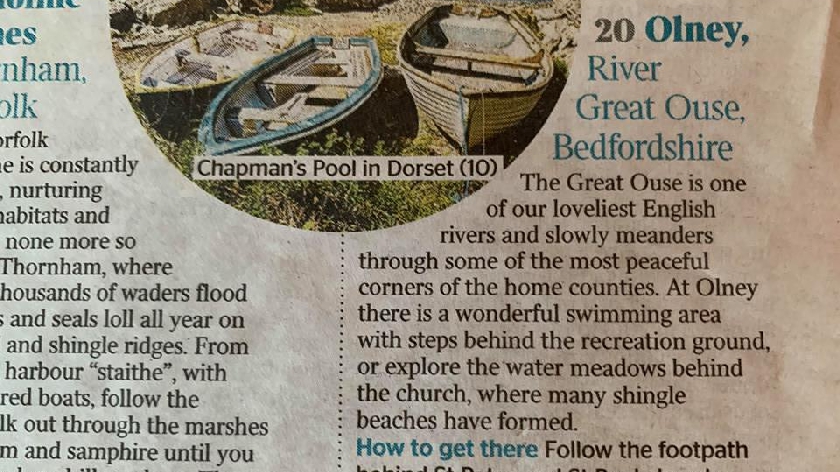 Residents in a town near Milton Keynes have responded with anger after a local river was featured in The Times newspaper today.
The River Great Ouse in Olney is featured in the newspaper, along with a number of other 'wild swimming' locations across the UK.
Times writers describe the 'wonderful swimming area with steps behind the recreation ground' in Olney as a great place to visit for wild swimming as well as the 'many shingle beaches' which have formed behind the church.
However, residents have been commenting on social media that the article will bring too many people to the town.
One resident commented: "That's all we need more people coming there. Completely ruined for locals to go to now."
Another added: "It's already too busy because of the Facebook article a few years back. I don't even try to go now which is really, really sad."
Residents have also responded with concern that an increase in rubbish has been seen at the location over the past few weeks.
One said: "The mess on the Rec this morning was disgusting. Will be dreadful if the water meadows are abused as well."
And one resident suggested that the Town Council should be approached regarding the article.
But not all were critical of the feature.
A local resident in support of the article commented: "How strange to come out against a brilliant method to pull in cash flow to the local businesses. We live here, but it is not our town."
"Anyone is free to visit and rightly so. At this moment in time we should all be very grateful to what could amount as a lifeline for the local economy."
Criticism has also been given from some due to the article incorrectly describing Olney as being in Bedfordshire rather than Buckinghamshire.
You can see the full article in today's The Times newspaper or on the website here (paywalled).