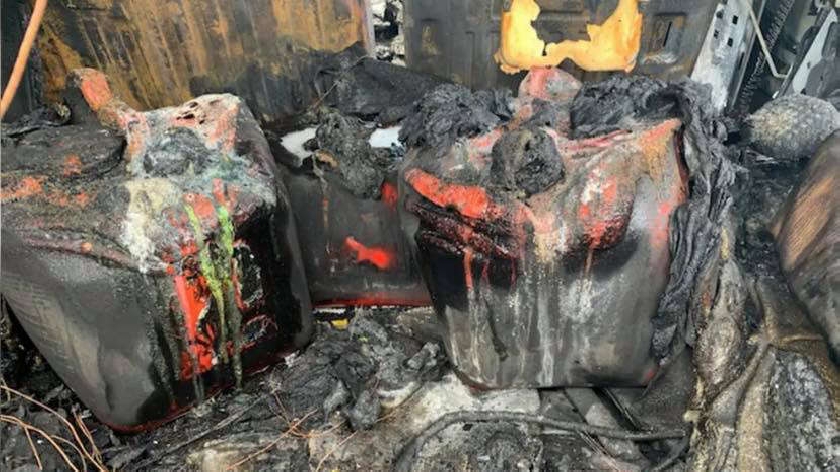 Image: Bedfordshire Fire & Rescue
Bedfordshire Fire and Rescue have taken to social media to remind people of the dangers of storing large quantities of fuel at home.
Long lines of cars at petrol stations started forming on Friday and continued over the weekend, as concerns over supplies spread.
Panic buying has left garages across the country struggling with limits on spending being put in place to try and tackle queues.
Bordering Bedfordshire's Fire and Rescue service have taken to social media to remind people how important it is to store fuel safely.
A spokesperson for Bedfordshire Fire and Rescue said :"In light of the issues with transporting fuel to petrol stations that is causing some petrol stations a fuel shortage, our Prevention Team would like to remind you that it is not recommended that you store quantities of fuel within your shed or garage.
"Unleaded petrol can go stale in as little as one month so storing large quantities may actually cost you more money in the long run.
"Fuel and fuel vapour, are highly flammable, explosive and toxic, incorrect storage and handling can have fatal consequences."
The following advice has been given:
What is the limit when storing fuel?
Beds Fire & Rescue says "HSE official guidelines state that you can legally store a combined limit of up to 30 litres of petrol or diesel fuel at a domestic residence or non-workplace premises in the UK."
What containers can be used for storing fuel?
Plastic containers storing up to 10 litres.
Metal containers storing up to 20 litres.
How to store fuel safely-
Fuel should never be stored in your home or any living space.
Fuel should be stored in a well ventilated, secure outbuilding as far away from any possible sources of ignition.
It has today (28/9) been announced that public services in each region are to review how to help key workers get fuel.
David Fothergill, chairman of the LGA's community wellbeing board, said: "Councils want to make sure that everybody who needs fuel can access it safely and swiftly.
"We encourage people to be considerate of our essential workers such as health and care staff, so they can get the fuel they need to do their vital daily roles caring for our older and most vulnerable members of our communities.
"Local resilience forums in each region, consisting of local councils, emergency services and other agencies, will be reviewing what they can do to help essential workers get the fuel they need.
"Councils will also have their own business continuity plans in place."
He added: "We continue to urge people to only refuel when they need to and to consider the needs of our essential workers during this short disruptive period, until supplies return to normal."
Milton Keynes Council took to social media previously to urge residents to buy fuel as needed, they said: "There's no need to panic buy petrol in Milton Keynes.
"Please follow government guidance and buy fuel as and when you need it."
READ MORE: Panic buyers continue to queue outside petrol stations across Milton Keynes