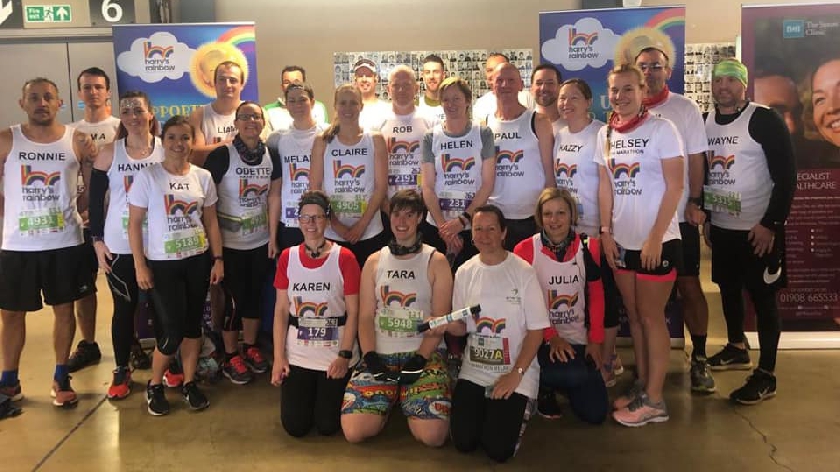 Harry's Rainbow are looking for local residents to Run the Rightmove 5K, 10K, Half Marathon or MK Full Marathon on 25th – 27th June 2021.
Harry's Rainbow are proud to be the chosen charity partner for Rightmove's 'On the Move' Team at the MK Marathon Weekend again for 2021.
Runners of all abilities are invited to pick a distance and a fundraising target that works best for you.
The weekend event takes place in Milton Keynes on 25th – 27th June 2021, and runners can take part in either a 5k run, 10k run, a half marathon, or the full 26.2-mile marathon.
How much you need to fundraise depends on the distance you want to run, check out the helpful table here for more information.
As a thank you for signing up to run for Harry's Rainbow, they are offering team members a free 'On the Move' training T-shirt, a water bottle, Harry's Rainbow running vest or T-shirt personalised with your name to run in on the day, as well as free entry to the race and a chance to meet Dame Kelly Holmes.
Ready to commit to do something amazing?
Join the Harry's Rainbow MK Marathon team now by emailing Emma - emma@harrysrainbow.co.uk
Listen back to our interview with Emma from Harry's Rainbow about the free places available at the Rightmove MK Marathon Weekend here.
About Harry's Rainbow
Harry's Rainbow are an independent charity local to Milton Keynes. Founded by Odette after she lost her seven-year-old son, the charity was set up to support bereaved children that have lost a parent or sibling; a service she felt was missing in Milton Keynes but desperately needed for Harry's brother & sister. They offer essential support groups, counselling, and even family getaways around significant dates, particularly birthdays, anniversaries and Christmas. Find out more about Harry's Rainbow here.