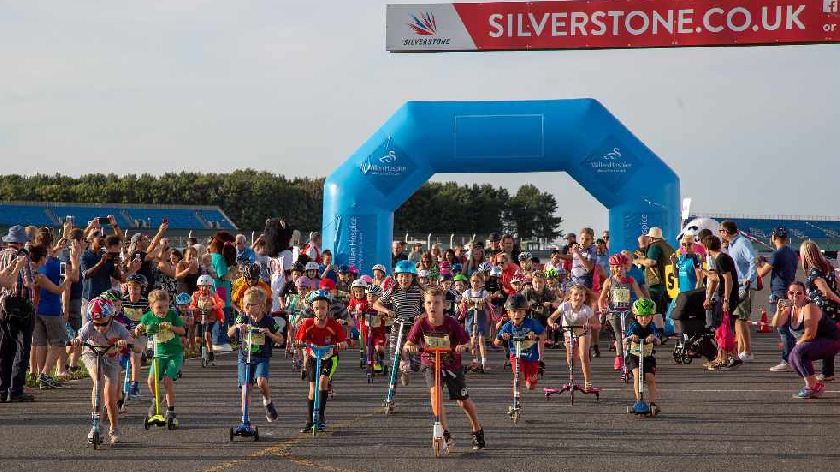 More than 180 children took to their scooters for Willen Hospice's fourth Mini-Moo Scooterthon on Wednesday (1 August 2018).
In a departure from the usual venue, Willen Lake, the Scooterthon was held at Silverstone Stowe Complex, the home of British Grand Prix. Set against the backdrop of the iconic Silverstone Wing, exuberant children and parents scooted around the same track as famous racing driving icons such as Lewis Hamilton.
The event saw children aged from 3 to 11 years old take on either one or two sponsored laps of the race circuit.
Senior Events Fundraiser, Tracey Jago says, "The atmosphere was brilliant. The weather was great. We were thrilled to see so many happy, smiling faces and amazed at their energy. Some children even scooted around three times! An added bonus was having BBC Look East filming live on the night. They aired our event on the evening news, highlighting the importance of raising funds for Willen Hospice."
"In addition to great scooting, the children have managed to raise an incredible £2,244 so far. We would like to thank everybody who took part to make this such a fun outing."
All children were given medals as they crossed the finish line and other goodies were handed out to thank them. All those who raise more than £100 for the Hospice will be invited to a special celebration party in September.
Willen Hospice needs to raise £4.7 million from the local community every year to ensure they can continue to offer end of life care to patients in Milton Keynes and surrounding areas. Events like Scooterthon are a great way for the public to support the Hospice.