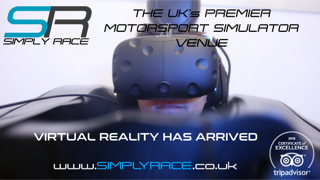 Simply Race are delighted to announce that VR (Virtually Reality) has arrived at their Racing Simulator Venue in Stacey Bushes on a permanent basis.
They have 2 simulators that have connected headsets. You can immerse yourself inside the cockpit from a British Touring car to an F1 car from the 1990's!
You can also race along with drivers in the other 15 triple 40' screen simulators meaning we have increased capacity to 17 simulators.
Michael Yau, Managing Director says, "We are no strangers to Virtual Reality because we use them as an offering for offsite events, however we thought it was time we brought it to our venue as a permanent fixture. We've invested heavily in creating a realistic and memorable experience with our professionally designed simulators and it has worked spectacularly well!'
Prices start from £15 for 20 minutes.
Simply Race is a unique leisure venue based in Stacey Bushes, Milton Keynes. The venue features a huge variety of cars and tracks that you can race on with friends, family and colleagues. The site also hosts a licensed bar for guests.
Any enquiries for more information can be made by contacting Mike Yau on 01908 713483 or emailing info@simplyrace.co.uk