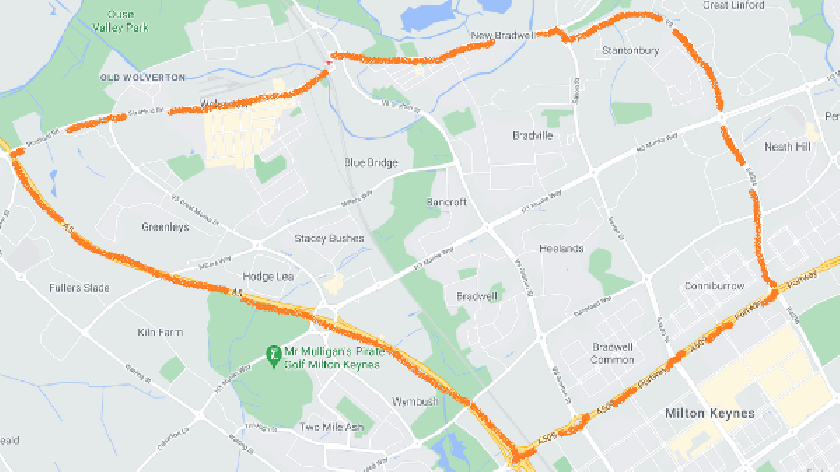 Map of the 'Stop and Search' Section 60 area
A stop and search order has been issued and Police are appealing for witnessses after a man was assaulted in Milton Keynes.
The incident occurred today (30/4) at about 4.30pm near to Bradville Community Centre in Mercers Drive, Bradville.
The victim, a 20-year-old man, was parked in his van when he was approached by three males all aged about 16 or 17.
He was then assaulted by them and sustained stab wounds to his arms and legs. The males then fled the scene.
The victim has been taken to hospital for treatment. His injuries are not life threatening.
The first offender is white, about 6ft tall, with a skinny face, crooked teeth, spots and dark brown long messy hair. He was wearing blue jeans and a plain light hooded top.
The second offender is black, about 5ft 8ins tall, with a stocky build, a chubby face with spots, and corn rows. He was dressed all in black.
The third offender is black, about 5ft 7ins tall, with a skinny build and a skinny face. He had a slit in his left eyebrow and was wearing a black puffa jacket with a white pattern on the sleeves and cargo jogging trousers and a black head scarf.
No arrests have yet been made.
As a result of the incident, officers have enacted a Section 60 order in the area. This will give them extra powers to carry out stop and searches while they investigate this incident.
The Section 60 order will be in place for a period of 18 hours and will cover the area shown on the map.
Investigating officer Inspector Andy Pearce, based at Milton Keynes police station, said: "We're appealing for witnesses following this very concerning incident.
"Details are limited at the moment, and we are investigating to establish the exact circumstances, but if you have any information which you think could be relevant to our investigation, no matter how insignificant it may seem, please contact Thames Valley Police on 101, quoting reference number 43210184520.
"We would specifically ask for people with doorbell security or private CCTV footage to come forward, as you could have vital information.
"As a result of this incident, we have also enacted a Section 60 order, which will give us vital extra powers while we investigate, especially in relation to our stop and search powers.
"I understand that this incident as well as the Section 60 order may cause some concern in the community. However, I would like to reassure people that we are carrying out a full investigation, and that the Section 60 order is an important part of this.
"It is designed to help our investigation, as well as prevent further violence from occurring. It is in place for 18 hours but may be extended further if necessary.
"Members of the public might see an increased police presence in the area during this time. This is all part of our work to investigate this incident and to keep you safe."
Update 01/05/21 19:48: Descriptions of the offenders have been updated after Thames Valley Police made new information available.