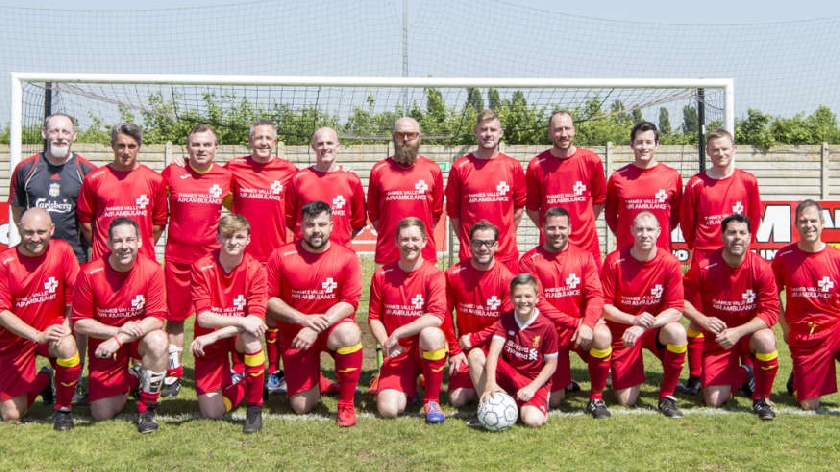 Thames Valley Air Ambulance FC will be taking part in a charity football match in Milton Keynes on October 31st.
Thames Valley Air Ambulance is a charity that provides emergency medical care by air and land to patients across Buckinghamshire, Oxfordshire and Berkshire.
Their paramedics and doctors are highly trained and bring the hospital to the patient.
Thames Valley Air Ambulance Football Club formed after a tragic accident in Thame. A young boy sadly passed away after being involved in a car accident, the TVAA attended the incident but unfortunately were unable to save him. He was only 4 years old.
Thames Valley Air Ambulance then had the idea to organise a Charity Football match which quickly turned into a Family Fun Day event in May of 2017 and they were successful in raising money for the TVAA.
The players in the team, which was formed of mainly dads from the school where the young boy attended, were all in agreement to carry on playing after such a successful event and to continue to raise money for the TVAA via football matches.
5 years later, the team still play.
Since forming the team, they have been a part of a whole load of events such as Winter Charity Balls, Sponsored Runs, and so many other activities all under the TVAA FC banner.
Alongside promoting the charity's work and fundraising through spectator and opposition donations, the team also provides a positive social space for individuals connected to Thames Valley Air Ambulance.
The next TVAA charity football match is being hosted in Milton Keynes on Sunday October 31st.
You can help support the team by cheering them on or dusting off your boots and getting your kit on.
Visit Thames Valley Air Ambulance XI Facebook page for more information on upcoming fixtures and how to get involved.