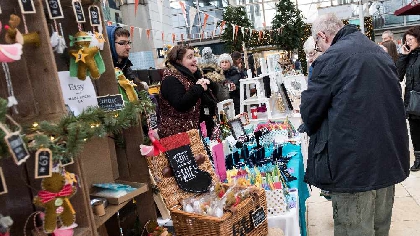 The market, which will take place on Saturday 9 June will be situated outside Gap and Hollister and, for the first time, offer interactive workshops for shoppers to get involved and really see how to create such beautiful homemade products*.
intu Milton Keynes is delighted to announce the return of the popular Artisan Market, a showcase of over 30 independent businesses.
Also, this market will see new businesses taking part, including The Owls Nest Design Studio, specialising in metal art, jewellery and sculptures, Zellie London, selling bags and accessories for little adventures and Jenn Roffe who creates beautiful hand drawn inspirational prints and cards for friends. Plus some favourites from last time will be back including Himalayan 4 U, who sell fair trade Himalayan salt products and lamps, Tabitha May, a digital print designer who is inspired by the railway posters of the 1930's and Baby Dee & Me who specialise in slogan tees and monochrome baby clothes inspired by music.
Kirsty McGiff, marketing manager at intu Milton Keynes says, "We are thrilled to host another market with the Etsy MK team and look forward to welcoming lots of lovely sellers back to the centre. The workshops which some of the sellers are planning to run will be a brilliant addition to the market and will definitely put a smile on everyone's face.It is also a great way for shoppers to get to know the sellers from behind the scenes!"
Applications for the June market are now closed however the Etsy MK team are accepting applications for the 29 September market and the Christmas Etsy Made Local Market which is now confirmed for Saturday 1 December.
To register your interest for the next two markets, email etsymiltonkeynes@outlook.com. Sellers taking part in the Christmas market on the 1 December must be Etsy sellers. Sellers do not have to be an Etsy seller to take part in the September market, but sellers do have to be independent and sell locally designed, handmade, upcycled or vintage items. The centre cannot unfortunately accept independent sellers who sell mass-produced items, items bought from trade shows or imported goods to resell.
A full list of traders will be revealed closer to the time on the intu Milton Keynes website.
*Subject to change.