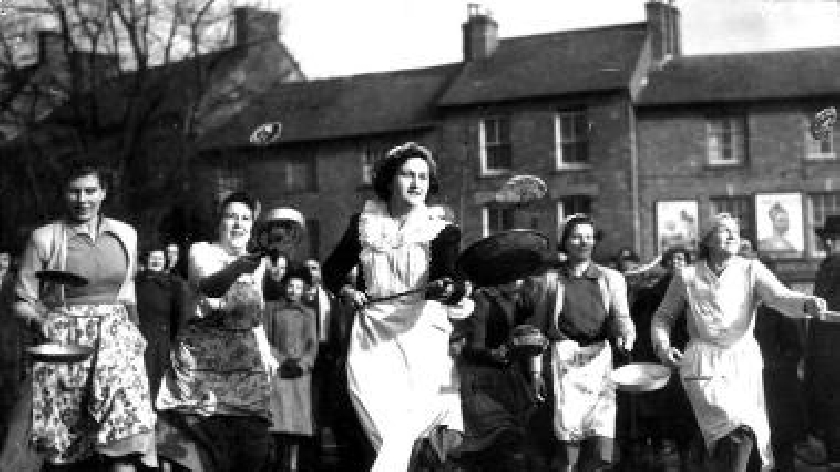 Find out why Shrove Tuesday has played a large part in the traditions of Milton Keynes and its surrounding towns...
On this day over 550 years ago, the story has it that a local townswoman ran down the Olney High Street holding a frying pan, fearing that she would be late for church. Little did she know, centuries later her late comings would result in an annual world-famous pancake race.
Nobody really knows how the race originated, however, the story of the woman running hurriedly to confess her sins at the sound of the shriving bell seems to overtake the rest.
Shrove Tuesday has always been of religious significance to the townsfolk of Olney. It is the day before Lent, which is the start of the traditional fast. Traditionally, people were to give up dairy products for Lent, meaning the products were put into a pancake mix. For the Olney women, it was also important to attend the Shriving service before the start of Lent, where they could confess their sins ahead of Ash Wednesday.
In 1445, the first pancake race is said to have taken place in Olney. The women of the town grabbed their apron and hat, running down the high street to the church door. Centuries later, today, the women of Olney are still picking up their frying pans to take part in the timed race.
Each year, people travel from far and wide to witness the world-famous event. The race was even featured in a book about 500 things to witness across the globe!
Did you know...
The women of Olney don't just compete against one another each year, they also compete against the women of Liberal in Kansas, USA! In 1950, R.J. Leete, the President of Liberal contacted the Rev. Ronald Collin, Vicar of St. Peter and St. Paul's Church in Olney, challenging them. So far, the women of Liberal have beat the women of Olney 36-26.
Have you been to the Olney Pancake Race before? Tweet us your pictures @MKFM.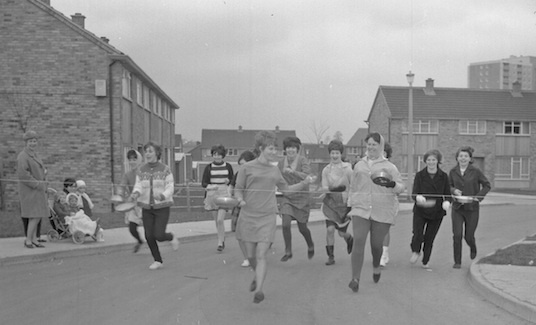 Now Olney isn't the only town that has the monopoly on the pancake race. Here's a picture of a pancake race that took place in West Bletchley in the 1960s (Copyright: Living Archive MK).
What's happening today:
The Olney Pancake Race will start at 11:55 am. Children from Olney schools also take part in their own races. Runners will start from the Market Square and finish at St. Peter and St. Paul's Church. The High Street will be closed so you may want to allow extra time to get there and get parked.
The MK Rose Corporate Pancake Race will start at 11:55 am. It will take place at the Milton Keynes Rose in Campbell Park.