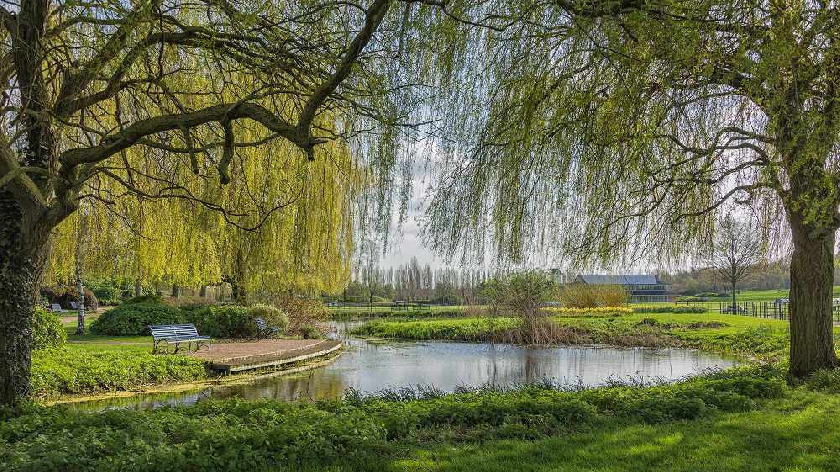 As lockdown restrictions are beginning to ease all across the country, locals are being encouraged to explore some of the outdoor areas Milton Keynes has to offer.
The Park Trust is a local independent charity that cares for over 6,000 acres of parkland and green space in Milton Keynes. This includes the river valleys, ancient woodlands, lakesides, parks and landscaped areas alongside the main roads that represent 25% of the city.
On their official website, they recently encouraged locals to take a trip to Campbell Park, which resides in the heart of Milton Keynes and connects the city centre to the wider landscape and the expansive linear park network.
They said: "The original vision for Campbell Park was for it to be the cultural heart of the city, with sculptures sited in the park alongside art installations, performances and temporary shows. Today you can see eleven pieces of public art and sculpture within the park, and it is possible to tour around and view all the pieces in one go by following our self-guided walk.
"Visitors can discover natural and man-made topography as well as public art, water features, the Grand Union Canal, a first-class cricket pitch, open-air auditorium and planting designed to encourage biodiversity. It is also home to The Parks Trust headquarters, our offices are located in The Pavilion and overlook the cricket pitch.
"The park boasts wild flower-rich meadows where sheep can be seen grazing at certain times of the year. Scale the belvedere during your visit to take fantastic pictures of the iconic Light Pyramid and enjoy views across North East Milton Keynes and Bedfordshire.
"This area was awarded Grade II status by Histroic England in August 2020 due to its historic interest and innovative architectural design. Campbell Park is one of the largest parks to be laid out in England in the 20th and 21st Century. The design takes on elements from the 18th and 19th Century and fuses them into a contemporary design fitting for our pioneering new city."
Hundreds of and sporting activities take place within the park grounds, some of which include:
The cricket pitch which hosts a packed programme of competitive matches.

An off-road cycle trail intended for all riders with Mountain (MTB), Cyclo-cross (CX) or Gravel bikes and has been created to not be too technical although there are some steep gradients with riders climbing to 85m per lap!

An orienteering course used by the South Midlands Orienteering Club.

As wind is almost guaranteed, the events plateau is a popular spot for kite-flying.

The slopes of the belvedere are a favourite for sledging during winter!
The park is also home to hundreds of various events each and every year, to find out more information about upcoming events this spring/summer please click here.