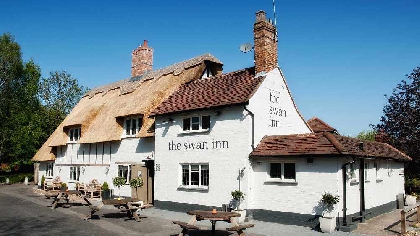 The Swan Inn in Milton Keynes Village has claimed the title of 'Best Pub in Buckinghamshire' for the second year in a row at The National Pub & Bar Awards.
In the 2016 Pub & Bar Awards, The Swan Inn subsequently went on to win the regional award at the finals held at BAFTA in London on 24th May 2016, where they were then named 'Best Pub in the South East'.
These awards have been especially significant to The Swan Inn as back in 2011 a devastating fire took hold at the pub just seventeen days before Christmas Day. This took place just two days after they had re-opened following an extensive refurbishment. In the months and recent years to follow, they rebuilt and moved forward...
"We are thrilled and very proud of this achievement, particularly in winning this award for the second year running" says Steve Wilkins, owner and founder of Little Gems Country Dining. "It's a real testament to the hard work from the whole team over the past few years. We are now looking forward to collecting our award on the 23rd May and being in the running once again for Regional and National winner."
In total, 94 venues from England, Wales, Scotland and Northern Ireland have been selected as the best in their county and will now make their way to the National Pub & Bar Awards grand final at BAFTA in London on Tuesday 23 May.
At the final, the 94 County Winners, including The Swan Inn, will be in the running to be named the best in their region. What's more, the overall National Pub & Bar of Year will also be announced.
The 2017 County Winners have been selected around multiple marks of quality, assessing every element that goes into making a hospitality experience truly excellent.
"This is an industry that never stands still – the operators of the best pubs know that they have to be at the top of their game 100% of the time," says Tristan O'Hana, editor of Pub & Bar magazine. "Our 94 County Winners are shining examples of that energy and creativity. They are what makes the pubs and bars of the UK so renowned. Congratulations to all of the finalists."
The Swan Inn is owned and operated by Little Gems Country Dining who also have several other award winning pubs in their stable, including The Park Pub & Kitchen in Bedford.