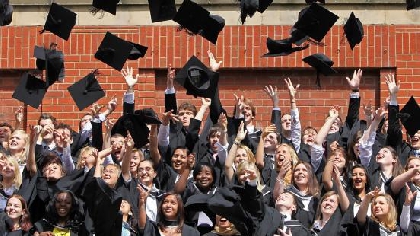 According to a survey which ranked the best university towns and cities in the UK, the happiest students can be found in Northern Ireland.
Carried out by UK student accommodation provider, Sodexo, the survey asked thousands of students across the country to rate how satisfied they were with their choice of university based on a range of factors such as the standard of education offered, location, nightlife and dining options, and how stressed they felt overall.
Where's the Top Place to Study?
Whether you are considering applying for a place at university in the UK or plan to move here whilst studying for your online MALS degree, this year the number one place to study is Belfast in Northern Ireland, where an impressive 94% of students said that they were 'very happy' with their university city and the standard of living provided. If you prefer to order food in rather than cook, this is the perfect place for you to study, scoring higher than the rest when it comes to takeaways.
Best Student Cities in South England and the Midlands
If you'd rather study in mainland England, then head down to the south. Students studying in Brighton are the second happiest in the UK with 93% of students at the Universities of Sussex and Brighton reporting that they are very satisfied. If you're more drawn to the Midlands, Coventry scored 92% on the survey, and Wolverhampton University ranks 4th, with 91% of students reporting high levels of satisfaction.
Best Student Cities in Northern England
If you don't mind braving the colder weather to study up north, you can benefit from both cheaper prices and university towns and cities that made the top ten happiest places for students. Coming in sixth is Leeds University in Yorkshire, where an impressive 89% of students said that they were 'very happy' with their student life and university experience. Although they didn't make the top ten happiest student cities in the UK, some other great northern universities to consider are Durham or Manchester, which rank high in the league tables and offer a great student experience.
Best Student Cities in Wales
If you'd like to study in Wales or live there whilst studying for your online master in liberal studies program, you'll be glad to hear that two Welsh cities appeared in the top ten ranking. Swansea ranked the fifth happiest place for students to live in the UK, with 90% of students surveyed claiming to be 'very happy' with their student experience. The town of Aberystwyth ranks seven on the list, with 87% of students reporting high satisfaction levels.
Where to Avoid
On the other end of the scale, the most miserable university town in the UK might come as something of a surprise. Although the University of Oxford ranks high on the UK university league tables, 22% of students living and studying in this ancient university city reported being deeply unhappy and dissatisfied with their student experience.
Did/do you study in any of these UK university cities or towns? We'd love to hear from you in the comments.