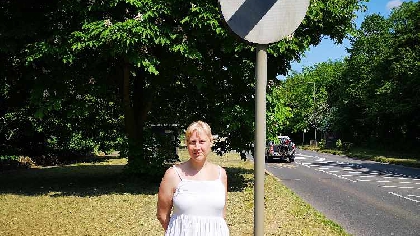 Photo of Jenny Marklew on the Stratford Road
The speed limit on the Stratford Road between Stony Stratford and Wolverton takes drivers coming, onto it, up to national speed limit, then halfway back down to 40mph.
The roads that feed this section of road are all either 30mph or 40mph, with the exception of one.
Stony Stratford's new councillor Jenny Marklew has launched a petition to get the speed limit reduced to 30 mph.
Cllr Marklew said, "I believe that by reducing the speed limit along this section of road to 30mph, you are less likely to have accidents occurring as people approach the roundabout. This makes good road safety sense. I want to see Stratford Road made safer."
She will be presenting the petition to the June Cabinet meeting.
Cllr Marklew concluded, "I have over 200 signatories already, clearly residents think this an important change to make. It reflects how sensible it would be to reduce the speed limit and make the road safer."
The petition can be found here