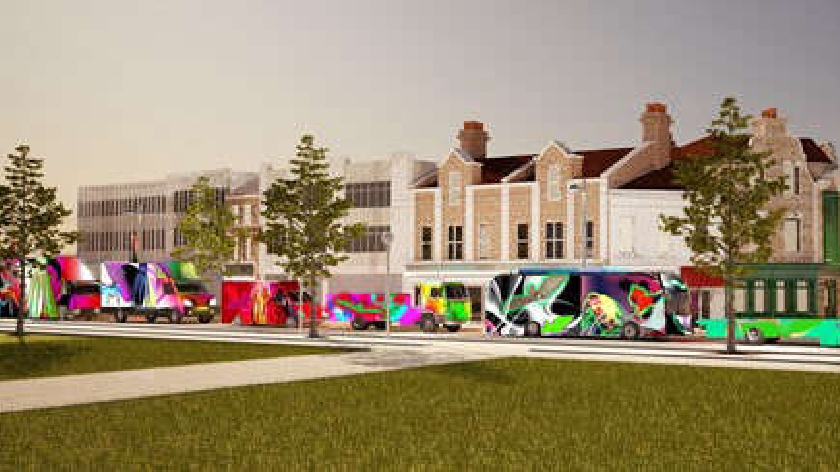 Credit -Nelly Ben Hayoun Studios for Tour de Moon
Tour de Moon celebrates the relationship between Earth and the Moon with a number of thought-provoking, exciting and original experiences; with a special focus on nightlife, creativity and culture.
A one-of-a-kind festival 'Tour de Moon', is launching its UK tour in Bletchley on May 11th. The unique, immersive and free festival is set to tour through three UK cities in four days via sustainable moon convoy.
On its epic journey across the country, Tour de Moon will be appealing to everyone from 'amateur sports teams to die-hard clubbers'.
The festival will make its way through Bletchley - Stainer Square, on 11th May.
Moon Convoy features huge floats and interactive elements starting with a large rotating moon that appears and disappears at night with further interactive and ultra-violet experiences – expect cosmic transformations through live music and DJ sets, a full size replica of nine metre-long Archie The Squid who resides at The Natural History Museum, talks, film screenings, an inflatable game designed with the help of scientists at NASA SSERVI and the SETI Institute, a nine-piece Arkestra and a larger than life red phone through which visitors can talk to the Moon.
Tour de Moon's creator is the creative director, artist and filmmaker Dr. Nelly Ben Hayoun of Nelly Ben Hayoun Studios. Nelly is the founder of NASA's International Space Orchestra and the tuition-free University of the Underground. Her large-scale projects have included collaborations with Noam Chomsky, Pussy Riot, Massive Attack and Kid Cudi to name but a few.
She is known for challenging institutions from within through events, and has done so at the United Nations, NASA and the International Astronautical Federation. Nelly's fellow directors at Tour de Moon include Magid Magid, former Lord Mayor of Sheffield and founder of Union of Justice, Natasha Patterson, head coach at Pedro Youth Club, Dr Franck Marchis, chair of the exoplanet group at the SETI Institute, Damian Bradfield, President of WeTransfer and Adam Teskey, Manufacturing Director at The Vinyl Factory Plant.
Dr Nelly Ben Hayoun says: "Our main objective for Tour de Moon is to prompt radical imagination, support pluralistic thinking so to offer alternative futures developed by and with youths. With this festival we decided to redistribute our funding and to use our platform to celebrate the nightlife sector and young adults – demographics which have been hit especially hard by the impacts of Covid and funding cuts over the last few years.
"Tour de Moon travels with the night, seeking new beginnings to empower others to create, initiate and innovate with new thinking and pluralistic practices so that history does not repeat itself on and beyond Earth."