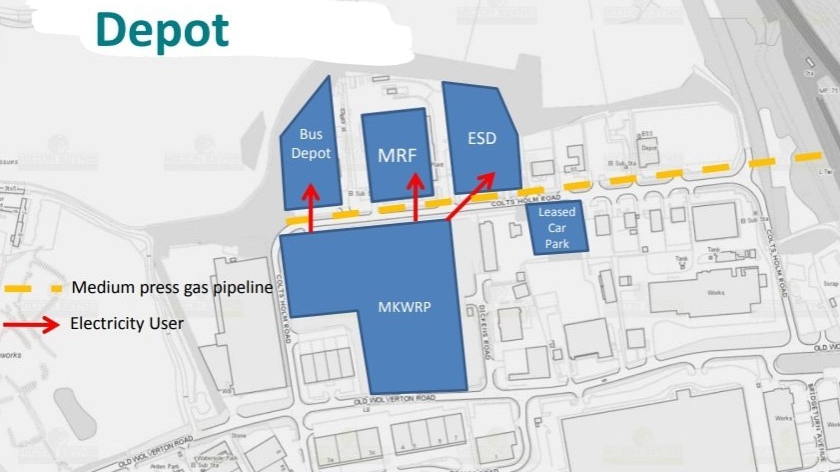 A plan believed to be unique in the UK for MK Council to generate electrical, gas or biofuel power for council bin lorries, vans, cars, and minibuses is being drawn up.
By a fortunate coincidence, the Milton Keynes Waste Recovery Park in Wolverton contains all the necessary buildings and ingredients for the council to be able to set up a new energy park relatively quickly.
The council already generates electricity from the city's rubbish and has an "anaerobic digester" which turns food waste into biofuel.
"We are talking about eating our own smoke," said Nick Hannon, the council's head of environment and waste, referring to closing the circle of turning rubbish to energy, which could power waste lorries.
"That is a true cyclical economy, and we would be able to lead the way. Nowhere else in the UK is able to do this and we would be taking more carbon out of the system by using green energy," Mr Hannon told the climate change task and finish group.
The meeting, on Thursday (13/2) was told that council officers have pencilled in a date of the late summer this year to present their findings to the political leadership.
They are already looking at the options for transforming vehicles into gas, biofuel, or electric-powered.
Alternatives to petrol and diesel power could save a considerable amount of climate change-causing gases, the meeting was told.
Transport in the city already accounts for an estimated 480,000 tonnes-per-year, with nearly 2,600 coming from the council's environmental and waste feet. Some 2,000 tonnes comes from bin lorries alone, the meeting was told.
By coincidence, there is also a gas pipeline running directly past the site, which could be used to supplement gas used.
But the meeting heard that it would not be possible at present to feed gas into the national grid in the same way that might be done with electricity.
Mr Hannon outlined the types of decisions that may have to be made in the future about the cost of replacement vehicles and the possible £900,000 of savings in fuel costs.
Green party campaigner, Alan Francis, who sits on the task and finish group, said: "I like the idea of eating our own smoke!"
The climate change task and finish group has now completed its evidence-taking sessions and a report is due to be put to the council's cabinet in due course.